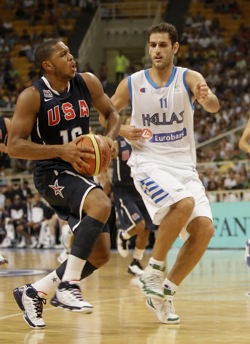 Posted by Royce Young
Wednesday's friendly featuring Team USA and Greece was nothing more than a formality. It was the last tuneup before the World Championships and despite the game being in Athens in front of a charged up crowd, the U.S. put a
Nenad Krstic
type beating on the Greeks.
Coach K played everyone and gave his roster a solid look as Team USA rolled to a 87-59 victory. We saw some interesting rotations and pairings that probably aren't any indication of what will be used in Turkey, but more of a "Let everyone play" type of thing.
The Americans stuck to the formula that has worked in their first three friendlies. Create turnovers, move in transition and defend. The things the U.S. didn't do so well was defend the interior (center Kostas Tsartsaris, starting in place of injured star Ioannis Bourousis, finished with 24 points).
Lamar Odom
started the game at the 5 for Team USA and didn't seem to handle the Greek big men very well. And this was without Sofo Schortsanitis who sat out the game after injuring his foot in pregame warmups.
Eric Gordon
led the way for Team USA with 18 points, hitting four 3s.
Kevin Durant
adding 15 on 6-11 shooting, plus grabbed seven boards and dished three assists, a team high.
Kevin Love
led the way on the glass with 12 rebounds.
Derrick Rose
was maybe the most impressive American on the day, scoring 13 points on 6-7 from the field.
The most minutes anyone from Team USA played was 21 with no one playing fewer than 10. Greece only played 10 and was locked down by tight American defense, shooting just 40 percent from the floor and also only had one player score in double figures. The U.S. did a ton of damage on the glass as well, doubling Greece 44-22 in rebounds. All in all, with Greece sitting some of its premier players and the entire roster lacking an NBA player, the result was to be expected.
I assume Coach K has his rotations figured out and that's why he went with some unique pairings today. Figuring out when to play Durant at center,
Russell Westbrook
off the ball, Odom at the 5 or Rose, Gordon and Curry all together is not going to be easy. And today's exhibition really gave no inside glance into how Coach K plans on managing it.
There honestly wasn't a ton to take from this friendly because the U.S. was clearly just playing everyone and Greece wasn't at full tilt. But it did give a glimpse as to where Team USA has an advantage over teams like Greece. The U.S. has to continue to use its length, athleticism and speed in the open court to find easy looks. And in the halfcourt, the drive-and-kick is Team USA's best friend.
Tyson Chandler
has so far given very little on the interior and with no back-to-the-basket player, the Americans will have to find other ways to score. And when you have Derrick Rose, Kevin Durant and
Rudy Gay
, those ways tend to show themselves more often than not.