Posted by Matt Moore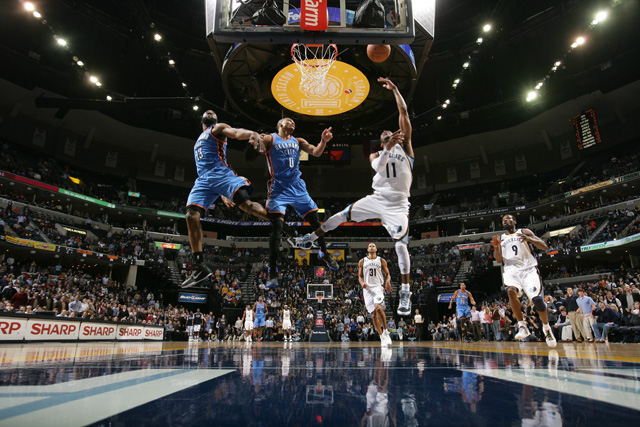 I. Intro
Well, that was exciting, wasn't it? The 8th seed without a single playoff win coming in knocking off the 1 seed with championship history? Great drama. But that's over with. And now the
Grizzlies
have to turn around and face a
Thunder
team that took care of its first-round opponent in impressive fashion and has had plenty of time to rest. And by "turn around," I mean literally turn around and head for the airport. After what was likely a pretty raucous celebration on Beale Street Friday night, the Grizzlies will head to Oklahoma City Saturday in advance of a noon tip Sunday. The Thunder will be the heavy favorites. They have the recognized names. They have more experience (slightly). And they're supposed to contend for a title. Basically, everything is stacked against the Grizzlies.
What else is new?
II. What happened? A Look at the Season Series
Believe it or not, the Grizzlies went 3-1 against the Thunder this year. That's right, the Grizzlies beat the Thunder three to one this season, with a win coming even after the
Kendrick Perkins
' trade. Most notable was a February tilt where the Grizzlies had played in Memphis against the
Lakers
and lost the night before. On the second night of a back to back, Memphis went into OKC, in their first game without
Rudy Gay
(after suffering the shoulder injury vs. L.A. the night before, and beat the Thunder.
Tony Allen
scored 27 points in that game. Weird things happen.
The consistent themes in the season series were what you'd expect.
Zach Randolph
and
Kevin Durant
went off. For two teams that stress defense so much, this wasn't a slugfest. It was a moderate-pace series with high offensive production. The Grizzlies had a 111.6 offensive efficiency against the Thunder in the four games. That's high. The Thunder haven't been a great defensive team this season and the Grizzlies took advantage of it. The one Grizzlies loss? Kevin Durant dropped 40.
III. The Easy Stuff: Kevin Durant Will Get His
Kevin Durant is the NBA's scoring leader. So yeah, he's pretty good. And he's going to get his in this series. The Grizzlies will have a similar approach against him as they had against
Manu Ginobili
. Tony Allen and
Shane Battier
will both spend time on him. And it won't really matter. Durant averaged 28.9 points against Allen, shooting 49 percent. But against Battier, he scored "only" 23.4 points per game, still on 49 percent shooting. Durant is going to draw fouls on Tony Allen, he's going to blow past Shane Battier. He's the best pure scorer in the NBA right now, and he is relentless. The Grizzlies don't have the help defense to shut him down. He'll get looks from the perimeter. He'll get to the line. He'll get buckets. The question will be if he can go off for 30+ consistently against tough individual defense, which will force the Grizzlies to bring help, opening up opportunities for his teammates. It's not a matter of whether Durant will dominate, it's how and how much.
IV. Secret of the Series: Just How Good is Kendrick Perkins?
Very good, is the answer to that question. But Perkins is still coming back from serious knee surgery. And he's going to be facing an extremely tough matchup along with
Serge Ibaka
. Perkins will likely spend the most time against
Marc Gasol
. Perkins is known as the guy who stopped
Dwight Howard
, but Gasol is a different type player. Not as athletic or explosive, obviously, but a legit seven-footer with good touch inside and most importantly, a big, burly body that can hammer in the post.
Serge Ibaka versus Zach Randolph is all sorts of interesting. Randolph struggles against extremely long defenders, which Ibaka definitely fits the bill. But Ibaka can get worked by good post moves, which Z-Bo has, oh, about a billion of. Randolph hooked-and-shook
Antonio McDyess
,
Tim Duncan
, and
DeJuan Blair
, but Ibaka's going to be a younger, tougher matchup. On the other end of it, though, Ibaka's amped-up, emotion-fueled play is going to get frustrated because Randolph? He just scores. By hook or by crook, the guy gets it done, and leaves you wondering how he did it.
V. The Dinosaur Narrative: Memphis Can't Handle the Pressure
Are you kidding me? The Grizzlies just faced down the 1 seed
Spurs
. They walked into San Antonio, took Game 1, and haven't lost a home game yet. The only thing that made it a six-game series was a shot even Manu Ginobili deemed "lucky." This team isn't going to be intimidated by any environment, any stakes. After winning their first playoff game ever, then their first playoff game in Memphis? Shane Battier said they're playing with house money. There's zero pressure on the Grizzlies. But how they respond to that is by attacking.
We're going to be seeing something in this series that should give the NBA and its Board of Governors pause. The crowds will be insane in both houses in this series, in small-market cities that many say don't deserve teams. That insanity is going to fuel cash registers through merchandise, concessions, and season ticket packages. Maybe take a look at how good teams with great fanbases can be instead of teams in high-cost-of-living areas.
VI. The Line-Item Veto:
PG:
Mike Conley
held his own against a discombobulated
Tony Parker
.
Russell Westbrook
has a chip on his shoulder after a frustrating and disappointing series against the
Nuggets
. Westbrook will likely see Tony Allen quite a bit, while Conley will have Westbrook attack his dribble to create turnovers. This is a huge advantage for the Thunder...
if
Westbrook gets his decision making right.
SG: Tony Allen thinks he can do too much on offense. But he can produce, and did against the Thunder this year with his season high.
Thabo Sefolosha
isn't asked to do too much, and he doesn't. But he's a capable defender who will neutralize a lot of the Grizzlies' perimeter opportunities.
James Harden
and
O.J. Mayo
is a matchup of two USC guys who can score and who can disappear. That matchup is going to be way bigger than people think. A big swing-vote player in this series?
Sam Young
, who is really a G/F who can attack at times and then get lost in ISO offense (a more polished Tony Allen, really).
SF: Durant. Durant Durant. Durant Durant Durant Durant. Kevin Durant.
PF: Hey, Ibaka is a really fun player. Z-Bo is an All-Star worthy player who just took out the Spurs nearly on his own. Gotta give Z-Bo the nod here.
C: Call it a wash. Perkins' technique and toughness versus Gasol's size and muscle.
Bench: The Grizzlies, all of a sudden, have a pretty good bench.
Nick Collison
versus
Darrell Arthur
is going to be a fun one to watch, with
Nazr Mohammed
in there for good measure. Mayo is dangerous but has yet to really go off, though he's been more of a playmaker in the playoffs. The Thunder have a solid bench, but not enough to make this a clear advantage. It's close.
Coaching: No one expected either of these interim coaches to make it this far, nor to be this good. They both get their teams, and connect with their players. They've both made impressive adjustments in the playoffs. They're both former players with the respect of their organizations, players, and fans. This will be a great matchup.
VII. Conclusion
Everything points towards a long, tough series. The matchups are actually pretty even. The Thunder have some holes no one is focusing on, and the Grizzlies are really good at exploiting those. The Grizz are over their heads, but playing without pressure. They have some legit stars, but not like OKC does. It looks like it'll be a great series.
But Memphis... can't possibly... do it again... can they?
We're going Thunder in five, because of the first game being Sunday at noon, a little over 36 hours from the Grizzlies' biggest game in franchise history. That sets a tone for the series. But as to whether we feel good about it? Well, ask the Spurs.