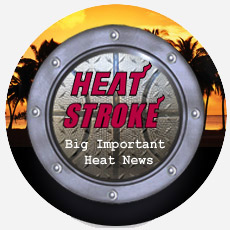 LeBron James empathizes with fans' anger, then wipes out any good will acquired by insinuating they should "get over it," then denies on Twitter. Good times.
Posted by Matt Moore

It had to happen sometime. Eventually, LeBron James was going to have to address Cleveland's fans and their visceral reaction to his departure for Southern skies. He was going to have to comment on them and how they feel about him now. Which is to say, he was going to have to comment on the fact that they hate his guts beyond belief. So he did. It did not go well. Here's what James told the ESPN
Heat
Index's Brian Windhorst about the fans in Cleveland:
"If I was a fan and I was on the outside looking in, I could be upset a little bit if one of my favorite players left," James said. "Or if I felt like he betrayed us or whatever the case may be. But you have to get over it . (Note: Emphasis ours. -Ed.) "
So that definitely comes across as telling Cleveland fans to get over him abandoning them for another team on national television, adding insult to injury, and crushing both their best-contending team and a significant portion of their economy (estimates of up to $250 million per year). Which, you know, probably won't go over well. James, though, was quick to jump on Twitter and backtrack from that sentiment immediately.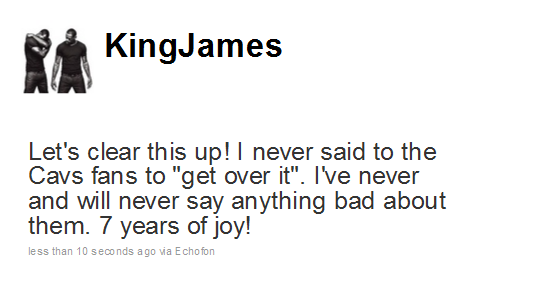 So he was just talking about what he would do? I'm confused. Because that quote looks really hard to get around the fact that it sounds like he's talking about Cleveland fans. James went on to explain the gap between the people rooting for laundry, and those that have to wear it.
"Sports are very emotional and fans are very emotional," James said. "At times they really believe you may be related to them you and you sleep in their house. When you do something wrong and you leave their house they can become very emotional. I've understood that over the years. But at the same time, you have to understand you have to do what is best yourself."
James is sounding pretty hurt by all this hatred lately. As I've said before,
anger is not really his bag
. But for all those that think he didn't care about Cleveland or its fans at all, they should rethink that sentiment. He did make connections there. It was hard for him to leave. He saw an opportunity, and he took it. Maybe it wasn't the "right" thing to do but it was what he felt was right for him, and it's his job, his career, his life. Those of us who are only criticizing him out of our own misguided sense of morality probably should "get over it."
But Cleveland? Nah. They have earned the right to stay mad for as long as they want. That's their right as fans.