San Antonio Spurs guard Tony Parker flies a jet pack. Posted by Ben Golliver.
NBA scouts say San Antonio Spurs All-Star guard Tony Parker can really fly in transition, but I'm not sure they had this in mind.
TMZ.com has uncovered a photo
of Parker, vacationing in St. Tropez, flying in a "water-propelled jet back" above the Mediterranean Sea. The site reports Parker spent the equivalent of $5,000 to take the ride.
Here's a look.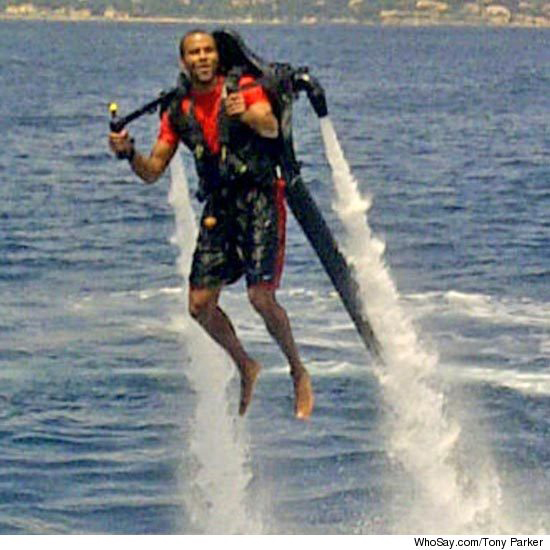 There's a very good chance this sort of thing would be off-limits under Parker's NBA contract, as potentially dangerous activities are generally prohibited.
The NBA is in a lockout, however, so there are no contracts and, therefore, no rules. Spurs coach Gregg Popovich and executive R.C. Buford aren't even allowed to call Parker to tell him to knock it off. They can only cross their fingers and pray.
Up, up and away!
The device Parker is reportedly riding is called a
JetLev
, which uses water as a propellant. The jetpack manufacturer's website says the product is easy to use and safe.
No other flying device even comes close to the Jetlev R200's stability, agility and ease of use. Feel as one with the jetpack when you fly, and experience levitation flight so stable that you feel as if you are suspended on cables. The three-dimensional degree of freedom will thrill and enthrall you like nothing else you have ever experienced. You can fly over deep open water with the assurance that it is one of the safest power sports ever invented.
Here's a promotional video for the JetLev
courtesy of YouTube user devinsupertramp
.
Photo via TMZ.com and WhoSay.com.