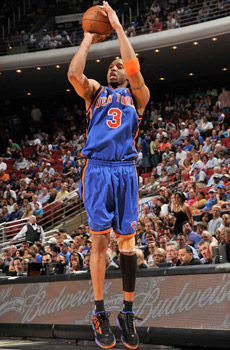 Posted by Matt Moore
Ken Berger of CBSSports.com reports
that the
Pistons
have signed Tracy McGrady to a one-year deal worth the veteran's minimum of $1.3 million. McGrady signs after a long, arduous process of trying to find someone willing to take a chance on him despite consistent injury issues and a body that no longer hold the athleticism that made him an All-Star. In Detroit, he'll provide bench scoring, and may make a decision to trade
Tayshaun Prince
easier for Joe Dumars as he attempts to swing a significant deal to improve the Pistons who struggled last year not only due to injury but significant chemistry problems.
McGrady showed flashes with the
Knicks
last season of being able to produce points like he used to, but would then follow-up those flashes with crashes back to reality, needing to sit out halves and entire games to recuperate. He has played 65 games over the past two seasons, dealing with ailing knees, shoulders, backs, and a bruised ego. He famously told reporters he would be undergoing surgery before alerting his team, and tried to find a spot on the
Heat
,
Bulls
, and
Clippers
before the Pistons elected to take a chance on him.
Prince has an $11 million expiring contract and is still a productive player when healthy, the kind of asset that can yield big results in a trade to a team looking to dump salary or a major player. If the Pistons decide to go for a cap-clearing move, McGrady provides a reasonable part-time option on the wing, and if the Pistons elect to move Prince for a significant upgrade at another position, it's possible they could take on a similar low-cost, low-minute wing to provide balance to McGrady's inconsistency. Either way, McGrady should help to some small degree with putting butts in seats this season for a team whose attendance has plummetted as they have left title contention.
The significant question is not what McGrady brings to the Pistons, but if his arrival signals the departure of Prince.