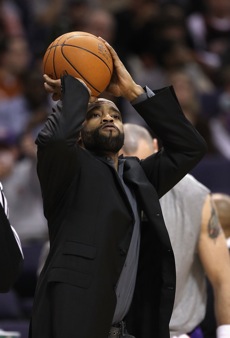 Posted by Royce Young
Newly acquired guard
Vince Carter
will make his debut for the
Suns
against the Philadelphia
76ers
,
coach Alvin Gentry told the Arizona Republic.
Because of swelling in one of his knees, Carter has yet to appear for his new team since being traded from Orlando two weeks ago. Lately, Phoenix has dropped three in a row and one of the issues that ail the Suns is a lack of scoring.
Carter has practiced with the Suns over the past week but just hasn't been ready for game action. Of course he faces the challenge of adapting to the fast paced Phoenix offense and also getting used to playing with
Steve Nash
.
Carter is a similar player to that of
Jason Richardson
, but with a little more one-on-one ability. Carter will get plenty of looks from 3, but in order to be successful with the Suns will have to run the floor, make good cuts, move without the ball and create shots for himself on the wing.
Most have written them off, but with the back end of the West not looking as strong with the
Hornets
fading and the
Trail Blazers
bruised again, there could be an opening for the eight-seed. Houston is improving and if Carter plays how he's capable, Phoenix could start sneaking up the standings. Currently, the Suns sit 11th in the West which is only a game-and-a-half behind the
Rockets
and Blazers.
Steve Nash, who likely is hungry for some help,
tweeted Tuesday evening,
"It's gonna be fun. He can do things no one on our team can do and will improve us."
Assuming Carter plays to his potential -- even if he's a bit over-the-hill -- he definitely will make them better. But then again, he has to be healthy too, something I'm not sure has happened in five or six years.