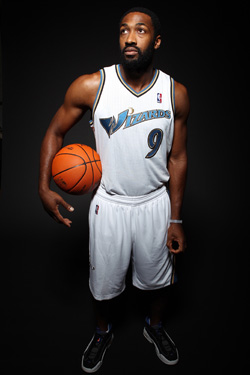 Embattled Wizards guard sullen at media day in return since suspension.
Posted by Matt Moore
A very different
Gilbert Arenas
showed up to Media Day Monday
to make his first real public appearance that didn't involve a judge. Instead of the jovial cartoon-character that NBA fans have embraced as some sort of indie-pop-idol due to his blogging, quirks, and general persona, Arenas spoke with reporters at media day for what Michael Lee described as "3 minutes, 12 seconds." Among the juicy short cuts,
courtesy of SBNation DC
.
On changing as a person:
"I'm more to myself now. I'm getting older, so you automatically grow. Just another year. New team."
Just another year. Easy, Gil. Your excitement is contagious, don't want to get the guys up too much. Then again, this is supposed to be about him taking his job seriously instead of, you know, pointing finger gunz at teammates after an investigation is launched regarding his illegal weapon possession.
On not smiling in his pictures:
"The only place I want to smile is on the court. That's where my job is, that's where my love is. That's the only time I need to smile now."
You know how I got these scars?
Why so serious
?
How do you plan to win back the fans?
(pauses) All I can do is just go out there and play hard.
Jeez. That's like the preseason version of "both teams played hard."
All in all, this actually
isn't anything new
as John Schuhmann points out. The only way Arenas is actually going to prove he's turned over a new leaf is to go out and actually do the things he talks about, like leading, taking his job seriously, and playing hard. It's possible he can actually deliver that this year. The talent may still be there. The question, as it has been for three years, is if the head and legs are there still, too.