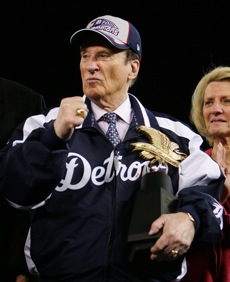 Posted by Royce Young
According to the Crain's Detroit,
the current
Pistons
ownership group headed by Karen Davidson have decided to sell to Mike Ilitch.
The price isn't known yet, but as mentioned a few months back, it's expected to be around $100 million less than the $450 estimated value by Forbes.
The Ilitch family was a favorite to win the bid as they're already entrenched in the Detroit sports scene. They also own the Detroit Tigers and Red Wings as well. Supposedly the Ilitch group is extremely interested in building a new downtown arena and with their ownership of both the Red Wings and Pistons, they already have the tenants lined out for sure.
Ilitch is the perfect purchaser and the fact he will hopefully be able to bring basketball back to downtown Detroit is exciting. The Palace of Auburn Hills is on the outskirts of the city and was opened in 1988. Not that it's a bad arena, but the Pistons and Red Wings should be in downtown playing in a new arena. It makes sense.
It's somewhat interesting that Davidson decided to sell to Ilitch, who between the two ownership groups there has been some hostility and dislike over the years because of the Red Wings and Pistons. But Ilitch was touting that he came forward in order to keep the team in the city and that's something Davidson wanted to make sure happened.
Other candidates to purchase the team included venture capitalist Tom Gores, a Flint native and Michigan State University graduate; a group headed by George Postolos, a former Houston
Rockets
executive who also was special assistant to NBA Commissioner David Stern; and a group with ties to Dubai.
How is Mike Ilitch rich? He's an entrepreneur and founded Little Caesars Pizza in 1959. He also owns a ton of real estate in downtown Detroit and has been vital to the redevelopment of downtown Detroit, most notably renovated the famous Fox Theater.
Ilitch purchased the Red Wings in 1982 and the Tigers in 1992. With the purchase of the Pistons, Ilitch would be the first person to own three of the four major teams in a city (NFL bylaws prevent would prevent him from buying the Lions without selling the other teams). Some feared that the Pistons might be a prime candidate to move to another city because of the arena issues, but with local owner Ilitch now taking the reins, those concerns should be dissolved.