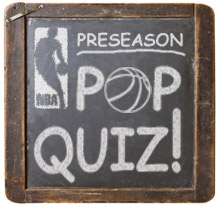 Posted by Royce Young
Fall is here, hear the yell, back to school, ring the bell
... The NBA season is right around the corner, and NBA training camp starts in just a few short weeks. To get you ready for the NBA season, we've put together 25 pop quizzes. Pencils ready? We continue our
Pop Quizzes
with this question...

First, a different question:
Does
Carmelo Anthony get traded? Based on multiple reports from Ken Berger, Ric Bucher and Adrian Wojnarowski, all signs point to yes. New
Nuggets
general manager Masai Ujiri is trying to convince Anthony to stay, but unless he plans on using some Jedi mind tricks, it sounds like Melo is taking off.
Chauncey Billups
plans on
having a conversation with Anthony once he returns from Turkey,
but it's not likely to work.
So we're going on the assumption he does get moved. The Nuggets need to trade Anthony, otherwise they're facing the same situation the
Raptors
and
Cavaliers
faced this past offseason. They don't want their superstar to walk without getting anything in return. And the longer they wait, they less they can get in return. So the Nuggets have the most leverage now.
I don't know if you realize this, but training camp starts in about three weeks. So if the Nuggets are going to get Anthony traded, they've got to get moving. There really isn't a pro to waiting until the trade deadline to deal Anthony, other than hopefully during that time you can convince him to sign that three-year extension. Other than that, there's nothing that is to be gained. Other teams know the Nuggets hand is being forced, so they know they can offer less and get more. If Denver trades Anthony sooner than later, there's more potential for a better return.
As Ken Berger said,
the Nuggets are likely set to unravel, with or without Melo. The window is closing on Denver, so getting something done to try and look ahead to the future is pretty necessary.
So when does Carmelo get traded, since I think we've settled on the fact he will be? If you have an office pool going, I'm not going to give you a specific date, but here are the odds for four different time periods.
Before the season (2/1)
Nothing makes more sense for both parties involved. The sooner Denver trades him, the more they get. But I think I've been over that. Probably like 15 times. And Carmelo would be wise to push for a deal sooner than later. A big hangup could be the looming CBA coming next summer, so Anthony wants to get into his new digs and get started hammering out a new contract extension before that hits.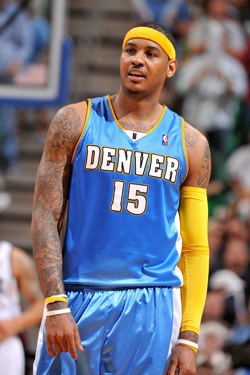 Plus, the market is broader the earlier you trade. A team that might not be a contender to re-sign Anthony could have a shot at using this season to convince him their franchise is the right fit. Maybe he's lukewarm on Sacramento and the
Kings
makes a deal to get him. Not only do they have a fun 2010-11 campaign, but potentially this is an audition to get him inked long term. More than likely Carmelo goes somewhere he is ready to sign, but the point is, the earlier the trade, the wider the opportunity.
By Christmas (4/1)
Waiting two months and then dealing Anthony? Not the best choice, but it's better than waiting any longer. Maybe Denver waits in order to try and convince Carmelo to stay. It's a little risky, but other teams might want to wait to see if not only Anthony would fit in well with whatever kind of push they're making, but also to try and give up less to get the Nuggets' star.
At the deadline (10/1)
What's the pro to waiting until the deadline? Well, I guess Denver might be able to get half a season of winning in their pocket and with the trade, still try and make the playoffs. But this scenario is just unlikely. If Denver is going to deal Anthony, trading at the February deadline probably makes the least amount of sense. You get less, you don't get a full season with Anthony and you limit your trade market to only the teams that know they can get Anthony re-signed.
After the season via sign-and-trade (25/1)
For Denver, this makes more sense than waiting until the deadline simply because you just bought yourself 82 more games with Carmelo (and maybe more than that). Plus, you get a season to try and win Anthony back, and then a little bit of the offseason to bring in new players with the cap room the Nuggets will have to hammer the point home.
But this is the highest risk scenario. If you don't convince Anthony to re-sign, you're faced with the LeBron/Bosh situation. Your star is leaving and all you're getting back is a second-round pick and maybe a trade exception. You get the least in return because your hand has been forced. In some ways, I see this as the most likely situation because things tend to play out this way, but in another, the Nuggets just watched an offseason where the Raptors and Cavs got burned. They don't want to be the next victim.
And just for fun, let's rank the teams he might be headed to. So far, about half the league has been tossed out as a potential landing zone. We've heard the
Timberwolves
, the Kings, the
Warriors
, the
Clippers
, the
Knicks
, the
Magic
, the
Rockets
and the
Nets
. Here are my top five contenders:
1. Houston Rockets
The Rockets are the favorite in my mind, because it makes the most sense all the way around. Houston is a contender with Anthony, something he wants. Houston is still a large TV market, something he wants. The Rockets can trade back quality pieces to Denver, something the Nuggets want. And Daryl Morey gets the star bedrock piece, something he desperately wants.
Anthony likely wants bigger lights for him and his celebrity wife to head to, but a lot of it comes down to what Denver can get back. I'm sure Anthony prefers New York or Los Angeles to anywhere else, but it's about finding a proper trade partner for the Nuggets. And the Rockets can give a quality return while Anthony gets a good city and good franchise.
2. New Jersey Nets
Carmelo was birthed in Brooklyn. The Nets are moving to Brooklyn. Hey, I'm just putting it all together here.
Of course there's the Jay-Z connection which seems to be a draw to pretty much every young star player. But not only that, new owner Mikhail Prokhorov has a stupid amount of money and toys that could entice Anthony. The Nets have a new arena coming, new ownership and potentially even a new name on the way. Anthony could be The Face of the rebuilt New Jersey franchise, which has to be intriguing. Plus, he would basically be in New York, somewhere that he wants to be.
The Nets have the necessary assets to reel in the Nuggets.
Brook Lopez
is probably out of the question, but there's
Derrick Favors
, Devin Harris,
Terrence Williams
and
Troy Murphy
. All of those could be something that Denver would want to pull the trigger on.
3. New York Knicks
It's not just that Carmelo wants to be in the Big Apple, it's that he wants to be the face of basketball in the basketball holy land. Save the Knicks, save basketball in New York and you're hoops royalty. What player would want to do that? Well, other than
LeBron James
I guess.
The issue with the Knicks is having the pieces to get a deal done. Whatever New York offers, it won't be as good as what New Jersey, Houston or a number of other teams can do. And the Nuggets aren't going to be in the thinking to do Anthony a favor and just trade him somewhere he wants. They want pieces or at least assets back, two things the Knicks don't have a lot of. But if Carmelo wants to be there bad enough and the Knicks know it, Donnie Walsh would have to put together some kind of package to get it done, even if that means he has to part with some of his prime young players.
4. Los Angeles Clippers
There isn't a team in the running that has available trade pieces that can compete with the Clippers.
Chris Kaman
,
Eric Gordon
,
Blake Griffin
,
Baron Davis
, Al Farouq-Aminu - any combination there would be almost impossible to turn away. Now Griffin is likely not going to be part of any trade, but Kaman, Aminu and Gordon would make for a fairly equal trade. So of Anthony's potential suitors, I would bet Denver prefers to talk to the Clippers first.
Obviously Melo would like to be in L.A., but he probably wants to be part of the other Los Angeles franchise. Playing for owner Donald Sterling and the hapless Clipper franchise isn't something basketball players dream of. But at the same time, going to the Clippers, building that franchise into a winner and competing for L.A. against the purple and gold would be something a real competitor would relish.
5. Denver Nuggets
They might be a major sleeper, but don't rule out the Nuggets. Most agree Anthony has already mentally left Denver, but people change their minds.
Chris Paul
already did it after Dell Demps sold him on a plan. Maybe Ujiri can do the same. Or maybe the Nuggets can't find a good trade buddy early on and in the first two months, Denver is winning and Carmelo is having a great time. Now that three-year extension doesn't look so bad anymore. You know how it goes, everybody can change.