Chicago Bulls power forward Carlos Boozer could make his 2010-2011 season debut on Wednesday after recovering from a fractured hand. Posted by Ben Golliver.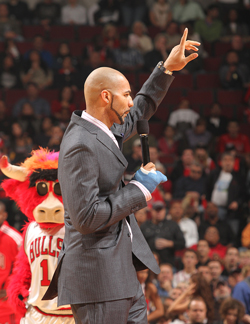 Back in early October
, Chicago Bulls power forward Carlos Boozer, the team's
marquee addition during free agency
, fractured his right hand,
requiring surgery
. At the time, there were some whispers that Boozer's injury may have come amid questionable circumstances, but the
Bulls didn't pursue the matter
, opting to wait for Boozer's return to health. That's looking like a smart decision, as the Bulls have gotten off to a solid start in Boozer's absence, sitting atop the Central Division at 9-6. The
Chicago Tribune
reports that Boozer
practiced Monday
and that his return to game action could come as soon as Wednesday, when the Bulls face the Orlando
Magic
. New town, new team, healing hand. That likely adds up to a gradual return to form for Boozer, a 20-10 machine, but once he is integrated into Chicago's lineup, watch out. The Bulls already
lead the league in rebound rate
and their overall defensive efficiency is top six. Boozer's offensive versatility -- he can bang down low, get to the free throw line, and step out to hit a face-up jumper -- will make life much easier for point guard
Derrick Rose
, and should help improve Chicago's offensive efficiency, currently ranked No. 18 in the league. The question to watch over the next two months in the Eastern Conference is which team rises to take on the mantle of the third seed, after favorites Boston
Celtics
and Orlando Magic. With Boozer back, you've got to like Chicago's chances.