After exchanging some words following a Sunday night loss, Los Angeles Lakers star Kobe Bryant and coach Phil Jackson reached a middle ground.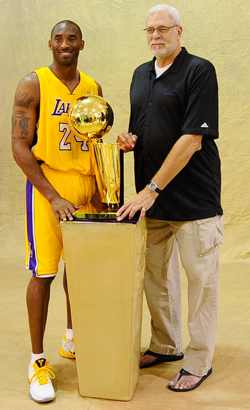 Posted by Ben Golliver.
It sounds like the fallout from the Los Angeles Lakers' blowout loss to the Memphis
Grizzlies
on Sunday night is starting to lose some of its radioactivity.
On Monday,
we noted
some back-and-forth comments made on Sunday night by Lakers All-Star guard Kobe Bryant and coach Phil Jackson. Jackson said Bryant "has to screw up the game" while Bryant said "I'm not buying any of that Zen (B.S.)."
Later Monday, after the loss had some time to sink in, both Jackson and Bryant appeared to make conciliatory comments.
Jackson,
according to the Orange County Register
, clarified what he meant by "screw up," claiming he didn't mean Bryant wasn't messing up the Lakers' gameplan.
"When the game starts getting out of hand, Kobe will crank it up, not screw it up — I used the term screw it up, not in terms of being in error or a mistake, but crank it up another notch to try and get us back in ballgames," Jackson said. "That's our fourth-quarter action. That's how we win ballgames. When they have to crank it up in the third quarter, there's not much left in the gas tank after that."
Bryant, for his part, acknowledged the truth of Jackson's words, saying that he did go outside Los Angeles's normal offensive system in an attempt to single-handedly pull the Lakers back into the game.
"He was right," Bryant said. "I totally broke the offense, but I did it intentionally because I felt like we needed to get something started because what we were doing just wasn't working. I tried to kick-start it, and sometimes it works out, sometimes it doesn't.
"But Phil doesn't really care how many shots I take, he just wants me to take them inside of the offense. That was one of those days where I was like, '(expletive) the triangle, I need to get myself going and try to save this damn game,' and it just didn't work out."
Sounds like cooler heads have prevailed. Maybe?