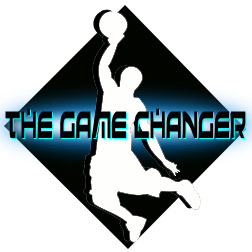 The Lakers finally lose, the Celtics down the Heat in front of a bunch of stars, Paul Pierce talks trash to LeBron James on Twitter and Chris Bosh is in some non-lofty company when it comes to his rebounding numbers. Posted by Ben Golliver.
Each game is made up of elements which help formulate the outcome. Monday through Friday, we'll bring you the elements from the night before's games in our own specialized version of the game recaps. It's not everything that happened, but it's an insight into what lead to the results you'll see in the box scores. This is
the Game Changer.
THE BIG ONE: LAKERS GO DOWN:
By Royce Young.
Sometimes, when the
Nuggets
are really clicking, that offense is absolutely terrifying. Not in a "Oh wow, they're really good!" way. Like a lock-the-doors-and-take-cover way.
Heading in to the fourth quarter Thursday, Denver trailed the Lakers by eight and at one point, were 14 down. But the Nuggs started the fourth on a 16-0 run then later added another 11-0 spurt to essentially put the Lakers away.
But that offense wouldn't have done the Nuggets any good without the stops. For instance, Denver scored 35 points in the second quarter. However, they allowed L.A. 38. And coming off a game where the Nuggets allowed Indiana 54 points in a quarter, defense had to become a priority in order to knock off the unbeaten champs.
Denver held the Lakers to 19 points in the fourth mainly by forcing
Kobe Bryant
and
Pau Gasol
into a combined 3-11 from the field. Bryant was just 2-8 and Gasol only had three shots. The Nuggets funneled the offense through
Shannon Brown
and
Matt Barnes
, essentially daring them to step up. Brown and the Laker bench has certainly done that, but they weren't able to do so in this one.
Instead, it was the Nugget bench that came up large.
Ty Lawson
put in 17 points and five assists in 23 minutes.
J.R. Smith
added 13 in 26 minutes. Between them and what the starters provided, Denver had the scoring angle covered.
A lot of this game can be summed up between the two stars. Kobe finished with 32 points but was just 11-32 from the field and started 2-10.
Carmelo Anthony
netted 32 but was 14-25 from the floor. Efficiency wins.
Early on, it looked like the Lakers were perfectly content to play at the Nuggets leisure. Whatever pace Denver wanted, it got. The Nuggets controlled tempo and the Lakers didn't put up much of a fight in stopping the game from going into a shootout. Not that the Lakers can't hold serve in that situation, but the Nuggets are a powerful offensive team when things get rolling. And they did Thursday.
The Lakers weren't headed for an undefeated season. Some thought they might be able to challenge the record 15-0 start. A tall order for sure, even for a team as stout as the Lakers. But I don't think 8-1 is all bad. Though that 33-19 fourth quarter for the Nuggets has to have the Lakers thinking they very well should still be unblemished.
GO-GO-GADGET LINES OF THE NIGHT:
Ray Allen:
35 points, one rebound, zero assists on 13-23 shooting and 7-9 from downtown in 41 minutes in a Boston Celtics road win over the Miami Heat.
Honorable mention to...
Carmelo Anthony:
32 points, 13 rebounds, two assists, two blocks on 14-25 shooting in 41 minutes in a Denver Nuggets home win over the Los Angeles Lakers.
LeBron James:
35 points, 10 rebounds, nine assists, three setals on 9-21 shooting in 44 minutes in a Miami Heat home loss to the Boston Celtics.
Luol Deng:
26 points, 11 rebounds, six assists, one steal and two blocks on 9-19 shooting in 40 minutes in a Chicago
Bulls
home win over the Golden State
Warriors
.
BULLS ROUT WARRIORS:
By Royce Young.
It was the game that no one was watching. Heck, I'm not 100 percent sure even Warrior or Bulls fans were tuned in with Miami and Boston going for Round 2 on TNT.

But here's what you missed:
A swarming, relentless defensive performance by the Bulls, holding the Warriors to 90 points, including just 38 at the half.
A terrific game from Derrick Rose who 22 points and 13 assists.
Chicago's starters all scoring at least 14 points.
And really, a game that stayed interesting despite being a blowout after three quarters.
Credit the Warriors, who really kept playing all the way through. This was the fourth in five nights for Golden State and the Warriors were just in over their heads against a rested Bulls club. Plus, it was obvious early on how meaningful David Lee is to them. He was out of this one because Wilson Chandler broke a piece of his face on Lee's arm, requiring Lee to get a number of stitches.

But Brandan Wright started for Lee and was entirely unproductive against the Bulls' front line. Dorell Wright led Golden State in rebounds with eight, if that tells you something.

Regardless though, the Warriors are still 6-3 and actually looking like a decently solid team. The Bulls reclaimed the Central Division in the East with the win, moving to 4-3. It was a great game or anything necessarily skipping Heat-Celtics over, but the game was played and stuff happened. But you probably didn't see it. Hence why I'm here telling you about it.
DON'T MISS:
WHIMSY:
A "Big Four" of musicians -- Chris Brown, Bow Wow, Lil Wayne and Drake -- take in the action between Boston's Big Four (Paul Pierce, Ray Allen,
Kevin Garnett
and
Rajon Rondo
) and Miami's Big 2.5 (LeBron James,
Dwyane Wade
and Chris Bosh).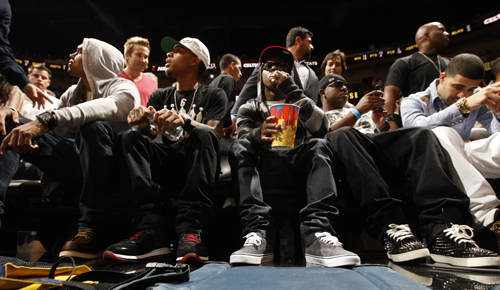 ONE FINAL THOUGHT:
According to Basketball-Reference.com
, 5'3" point guard Muggsy Bogues averaged 4.1 rebounds in 35.7 minutes during the 1993-1994 season. So far this season, Miami Heat power forward Chris Bosh is averaging 5.1 rebounds in 33.3 minutes per game.

Follow F&R on Twitter at @CBSSportsNBA and check out our RSS feed . This has been your daily edition of the Game Changer.