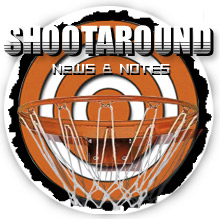 Posted by Matt Moore
Richard Jefferson hit four deep corner threes last night to help the Spurs bury the Suns (again). NBA Playbook breaks down one of them . Next time your team hoists another contested mid-wing three, ask yourself why it is that the best teams work for high percentage areas for high percentage shots and bad ones don't.
It would be remarkably easy to find only negatives to talk about in the Pacers' loss to the Sixers (the Sixers first win) by a comfortable margin. But 8 Points 9 Seconds points out that a big difference in this year versus last is that last night, no Pacer showed up his teammates . Bad teams turn to good teams when things like that start happening. It's early, so things can still go south, but it's a good sign. Losing well can at least be a building block for a young team, as long as it doesn't happen too often.