Posted by Royce Young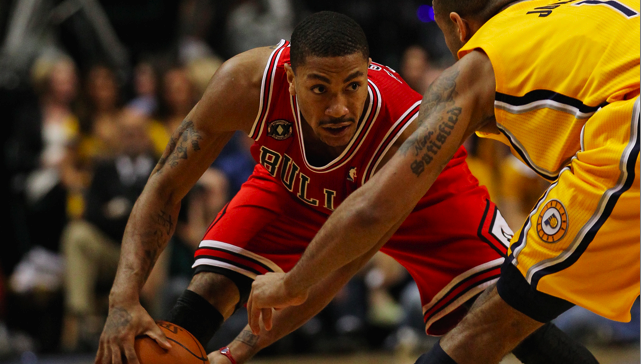 There's one lingering question hanging over the
Bulls
-Pacers series. Well, I guess it's really two but they're related. How is
Derrick Rose
and can the Bulls finally play a good game?
Rose is "questionable" (the quotes are there for a reason) but he'll most definitely play. The Bulls though have played pretty questionable the first four games of this series. They've allowed a lesser Indiana team to basically win 90 percent of the first four games. It's an "if" and if's are stupid, but if the
Pacers
had finished just one of those three games a bit better, we'd be looking at a real deal series here.
But this is an opportunity for the Bulls. They're returning home and have a chance to correct some of the issues plaguing them in the first four games. Rose needs to find a better rhythm. Chicago needs someone that can create a shot on his own. The Bulls need
Carlos Boozer
to wake up. Defensively, they've been their normal selves. Not that they were great on the offensive side during the season, but they've been fairly brutal so far.
It's become way to obvious that this team has to have Rose scoring 30 points in order to succeed. Where's
Luol Deng
? Where's Boozer? Where's
Keith Bogans
(just kidding).
Kyle Korver
is basically the only player providing some consistent scoring punch alongside Rose.
The Bulls are taking way too many jumpers and surviving because of rebounding and free throws. Those two things weren't there in Game 4 and guess what? They lost.
I wrote about it after the Game 4 loss
that really, the Bulls haven't played one good game yet this postseason. Rose was pretty stellar in Game 1, good in Game 2 and then average to almost bad in 3 and 4. The Pacers are rolling out a pretty good blueprint for everyone to see. Here's how you beat Chicago everyone. Challenge Rose and force their other guys to beat you. Hang in there on the glass, keep them off the line and present yourself a chance in the last five minutes and dare them to execute.
It's worked all four games for the Pacers except they didn't hold up their end by closing in the first three. The Bulls needed a bit of a wake up call and maybe it came in Game 4. It's time for them to prove a little something and get right in Game 5.