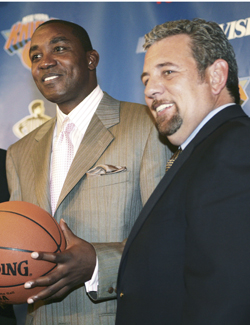 Knicks release statement assuring they are in "constant communication" and that no outside individuals are involved in Carmelo Anthony trade talks. World raises eyebrow, says "Uh-huh."
Posted by Matt Moore
The New York Knicks released a statement Sunday affirming that they are all on the same page regarding the Carmelo Anthony discussions, are working together, and that no outside influence is involved in the ongoing talks. The release actually never specifically mentions who they're talking about, as is typical of this bizarre circus that has enveloped All-Star Weekend. From the release:
"We want to make it abundantly clear that we have been in constant communication throughout this process and the three of us are in complete agreement with everything that we are currently working on. Together, we will do what is best for the long-term success of the franchise. In addition, we want to make it clear that no one from outside our organization has been involved in this process in any way. We will have no further comment at this time."
The release comes hours after
Ken Berger of CBSSports.com among others reported
that Isiah Thomas has been brought back into the fold on the Melo negotiations, and has in fact undercut Donnie Walsh's attempts to maintain leverage in the negotiations. The phrase "amateur hour" was used by one source to Berger in regards to how Knicks owner James Dolan has taken Walsh's legs out as Thomas appears to have more and more influence in the conversations. This release will do nothing to stem that tide of opinion. Why?
Because who puts out a release to say it's not so?
The interesting cut of the release is the second to last line, stating "no one from outside the organization has been involved in this process in any way." The curious question there is exactly whether or not Thomas is "outside the organization." The league denied a request from the Knicks to allow Thomas to serve as an advisor while head coach of Florida International University. But Dolan has maintained that he has and will continue to seek counsel from Thomas as a trusted advisor.
Dolan's continued reliance on arguably the worst executive in the history of professional sports management is boggling. Even for an owner who hasn't shown himself to be the most patient, the most rational, the most deliberate owner out there, keeping Thomas after he nearly single-handedly brought the Garden to ruins is beyond comprehension. There's no explaining it, not after it took Walsh nearly two and a half years to bring the Knicks back to a point where they could look to the playoffs again. This is the kind of whim that can bring an organization back to rubble after just getting its foundation up, and that's evident by Berger's report that Walsh is reconsidering his long-term place with the Knicks should the pattern continue.
Even if the situation is overstated and the release is on point, it's a damaging development. The Knicks have had to release a public statement to confirm that their president of basketball operations and head coach are still in charge of basketball decisions and that there's no rift. How are the Knicks going to maintain leverage in the fiercest trade negotiation we've ever seen if they're constantly having to cover their flank from talk of subversion by their former executive?
Forget Carmelo Anthony, forget revenue sharing, a change in BRI, 2012 free agency or any of that. What the Knicks organization really needs is a swift slap to the back of the head.