The Chicago Bulls and Atlanta Hawks return to Chicago for a pivotal game 5 in a series tied 2-2. Posted by Ben Golliver.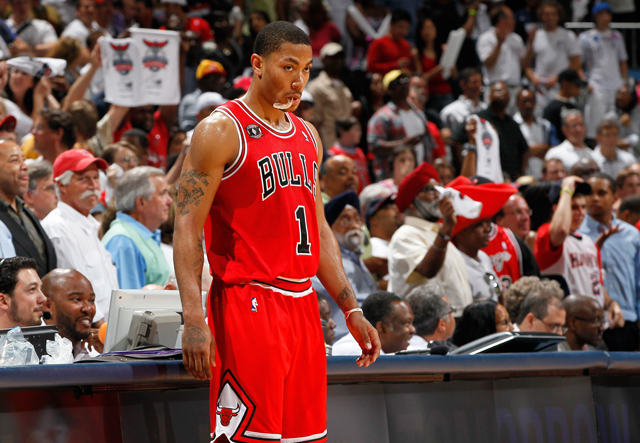 One Big Thing:
It's been beaten to death, but there isn't a bigger story than
Derrick Rose
's shot-taking. 27, 27, 27, 32: That's the number of field goal attempts Rose has jacked in the first four games of this series. He's a really nice guy, the best player on the court and being guarded by
Jeff Teague
, so it's tough to put him on blast. By taking 32 shots in Game 4, he became
only the third player
in this year's playoffs -- joining
Carmelo Anthony
and
Russell Westbrook
-- to fire 30+ times. So we can't even call this the "Kobe Zone" any more. All jokes aside, 12-for-32 from the field is almost guaranteed to result in a loss, and Rose faces the same old choices in Game 5: less shots or better shots. Bulls coach Tom Thibodeau is advocating for better shots, as he
wants Rose to continue to get to the rim
and the free throw line.
The X-Factor:
Chicago's bench has been called one of the best in the league and the group contributed 34 points in Game 3. Unfortunately, that production took a nosedive in Game 4, scoring just 14 points on a combined 5-16 shooting.
Kyle Korver
was a major culprit, shooting 1-8 from the field and going 0-5 from deep after shooting 1-9 in Game 2 as well. In that context, Rose's 32 attempts in Game 4 don't look all that bad. Korver had a bounceback game in Game 3 and the Bulls would love to see another one of those in Game 5.
The Adjustment:
Hawks forward
Josh Smith
played like a different man in Game 4, tallying 23 points, 16 rebounds and eight assists, and finally displaying some of the game-changing athleticism that was being wasted earlier in the series as he stood passively on the perimeter and hucked jumpers. So far during this series, Smith has averaged six boards a game in Chicago and 14.5 boards a game in Atlanta. Whatever the difference was -- whether the Hawks crowd got to him, whether he's twisting an intensity knob to "11" on a 1-10 scale or whether he's chugging a special home-brewed energy drink prior to tip -- Smith needs to make sure that impact carries over to the United Center on Tuesday. Atlanta's other big men have their hands full with
Joakim Noah
and Smith has shown he can be a difference-maker in this series if he gets loose.
The Sticking Point:
If you're still having trouble believing the Hawks are for real, even this deep into the second round, you're not alone.
The Atlanta Journal-Constitution quoted
Jamal Crawford
with the perfect summary of their season: "We've shown we can play with anybody, and some nights we can play with nobody." The Hawks aren't the only ones concerned about not showing up, however.
The Chicago Tribune notes
that Bulls forward
Taj Gibson
says the Bulls can't solely rely on their homecourt advantage to take Game 5. That both teams are worried about laying a goose egg would be troubling if the concern wasn't legit. The Hawks have rolled over twice and the Bulls got surprised once in the United Center and then came out flat in Game 4. The last 72 hours have seen the tenor of the rest of the playoffs get super duper serious: The
Lakers
were eliminated, the
Heat
nabbed a crucial, series-changing win in Boston and the
Grizzlies
and
Thunder
battled to three overtimes on Monday night. It's on both the Hawks and the Bulls to prove they can reach those heights. The clock is ticking.