The NBA has announced the rosters for it's annual rookie vs. sophomore challenge game during All-Star weekend. Posted by Ben Golliver.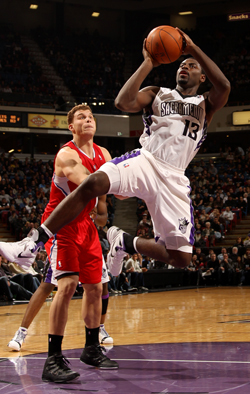 It seems like we say this every year, but, on paper, the Sophomores are going to absolutely destroy the Rookies in this year's Rookie Challenge. The NBA released the rosters for the two teams on Tuesday, and the Sophomores tout reigning Rookie of the Year
Tyreke Evans
, along with his stiff competition for that award: Brandon Jenning and
Stephen Curry
.
The Rookies pair up the lock for 2011 Rookie of the Year,
Blake Griffin
, and
John Wall
, which is a match made in highlight heaven. Past those two, and perhaps
DeMarcus Cousins
and glue guy
Landry Fields
, the talent level tails off pretty hard, pretty fast.
Here's the full list of names, via the NBA.
Sacramento Kings guard Tyreke Evans, the reigning T-Mobile Rookie of the Year, and Los Angeles Clippers rookie forward Blake Griffin, the only player in the NBA averaging at least 20 points, 12 rebounds and three assists, lead a list of 18 players selected for the 2011 T-Mobile Rookie Challenge & Youth Jam to be held on Friday, Feb. 18, in Los Angeles during NBA All-Star 2011.
The participants in the T-Mobile Rookie Challenge & Youth Jam were selected by the NBA's assistant coaches, with each team submitting one ballot.

Joining Evans on the Sophomore team are: San Antonio Spurs center DeJuan Blair, Golden State Warriors guard Stephen Curry, Toronto Raptors guard DeMar DeRozan, Chicago Bulls forward Taj Gibson, Philadelphia 76ers guard Jrue Holiday, Oklahoma City Thunder forward/center Serge Ibaka, Milwaukee Bucks guard Brandon Jennings, and Portland Trail Blazers guard Wesley Matthews.

Washington Wizards guard John Wall, the top selection in the 2010 NBA Draft, joins Griffin on the Rookie team, which also includes: Clippers guard Eric Bledsoe, Sacramento Kings center DeMarcus Cousins, New Jersey Nets forward Derrick Favors, New York Knicks guard Landry Fields, Minnesota Timberwolves guard Wesley Johnson, Detroit Pistons center Greg Monroe, and San Antonio Spurs guard Gary Neal.
While this is barely worth noting because we're talking about an exhibition game, Blair, Gibson, Ibaka and Matthews all boast post-season experience and combine to possess a fair bit of basketball intelligence. And by that I mean: they'll play harder than most, but when Blake Griffin is about to make one of his posters they'll be savvy enough to get out of the way.
One other footnote: DeRozan, Ibaka and Griffin will all be in the Slam Dunk contest as well.
I can't wait for this game. There's a distinct possibility that Wall could throw Griffin an alley-oop from the far baseline, setting a Guiness record in the process.