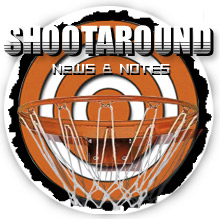 Posted by Royce Young
Dwight Howard has been pretty awesome this season and Eddy Rivera looks in depth at his start: "This may finally be the season that Howard becomes an elite two-way player. There are those that might be surprised that this phenomenon is occurring, but they shouldn't be. There were hints that this was going to happen during the 2010 NBA Eastern Conference Finals, when Howard took his game to another level offensively in Games 4 through 6 and began to make mince meat of Kendrick Perkins and Rasheed Wallace, two defenders that have been able to shut him down many times in the past. Howard, more than anything else, began to understand that he needed to use his finesse, not strength, to score on Perkins and Wallace. It's the realization that there are different ways to score based on the situation that has allowed Howard to use different aspects of his offensive repertoire when need be. Taking what the defense gives you. Howard is doing a lot of taking lately."
Michael Cunningham of the Atlanta Journal-Constitution on Al Horford's incentives: "Horford said the five-year, $60 million contract extension he recently signed with the Hawks also includes incentives that could increase the total value to about $67 million. The incentive clauses are based on Horford earning various superlatives, such as being voted to one of three All-NBA teams."
If you want to endorse KD, you've got to go to OKC: "I always told myself if I play the game the right way, if I always get better, things like this are going to come to me," Durant told The Oklahoman. "I don't have to go other places just to get this. I don't want to sound like a prima donna. But if companies want to come out here and be a part of what I have going on, they're going to have to come to Oklahoma City."
Phil Jasner of the Philadelphia Daily News: "It does not seem to matter that Allen Iverson is 35, that his best days are behind him, that he struggled last season in three games with the Memphis Grizzlies and 25 with the 76ers. All that matters is, Allen Iverson is coming. In true Iverson fashion, he was supposed to be there Saturday, to be greeted by throngs of people, to sign autographs, to be introduced to his new teammates with Besiktas. But he missed his flight, supposedly because he arrived at the airport without his passport."