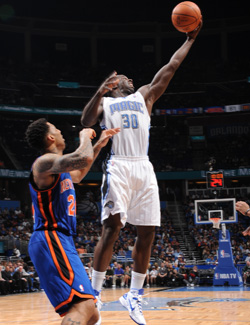 Magic
forward
Brandon Bass
will not undergo surgery... yet.
Posted by Matt Moore
The Magic got some good news, or rather, didn't get bad news Monday as doctors have been unable to conclude that Brandon Bass has a torn meniscus and have not recommended surgery. They're going to go with rest and Bass played 25 minutes Monday night. From
the Orlando Sentinel
:
Coach Stan Van Gundy said team physician Craig Mintzer and another doctor have reviewed the scans of Bass' knee, and the doctors aren't convinced that the burly power forward has a torn meniscus. So, for the time being, the team will attempt to treat the discomfort in Bass' knee without surgery.
via
Brandon Bass participates in Monday's shootaround – Orlando Magic BasketBlog – Orlando Sentinel
.
Bass has been enjoying a career year in points, rebounds, and shooting this season, and having a traditional post-oriented four who can hit the midrange has been very successful next to
Dwight Howard
. Having a player who can also produce some points down low when Howard takes a seat with his usual foul trouble is nothing to sneeze at, either.
The issue is that Bass obviously does have an issue and has been dealing with it for a while. That he's trying to tough through it is commendable, but it's also problematic that the doctors don't know for sure what's wrong with it and that he's still playing on it.
But in the short term, it's definitely good news for the Magic.