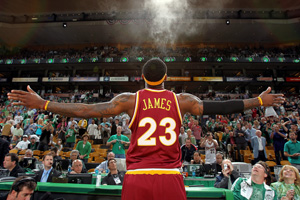 Posted by Royce Young
It's done.
LeBron James
has announced he intends to sign with the Miami
Heat
. You may now go back to your regularly scheduled lives.
It took about 30 minutes into the one-hour special for LeBron to make the announcement, saying, "This fall, this is very tough, but this fall I'm going to take my talents to South Beach and join the Miami Heat."
When asked why, LeBron said, "Like I said before, I feel like this is going to give me the best opportunity to win and to win for multiple years. And not only just to win in the regular season or just to win five games in a row or three games in a row, I want to win championships and I feel like I can compete down there."
LeBron said he made his final decision this morning after talking with his mom.
In the days leading up to the announcement, many reports came out LeBron was leaning the Heat's way. And the annonymous sources prevailed.
LeBron will of course join
Dwyane Wade
and
Chris Bosh
, forming a scary three-headed monster. But the fact is,
there's not a lot left in cap space to fill in a team
around the big three.
Ken Berger wrote Wednesday
that Miami was the worst choice for James. And wouldn't you know it, that's where he wound up.
Obviously more to come about all this, but in case you missed The Decision or somehow missed the headline and body of this post, LeBron James is going to Miami.