Miami Heat forward James Jones came up huge in Game 1 against the Boston Celtics. Posted by Ben Golliver.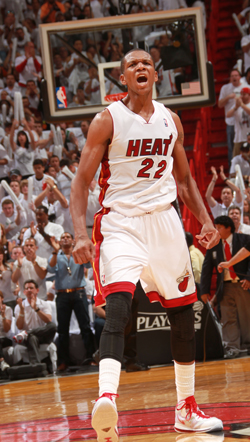 It's not often that a player who averages 5.9 points per game off the bench finds his way into the headlines following his team's biggest game of the season. But that's life on Sunday for Miami Heat forward James Jones.
The Heat defeated the Boston Celtics 99-90 to take Game 1 of their Eastern Conference semifinals series. It was a major win from a momentum and confidence-building standpoint, as the Heat struggled mightily during the regular season against the Celtics. Afterwards, the post-game praise from two of the game's greats went to Jones' performance off the bench.
"J.J. probably had the best game of anybody," Heat forward
LeBron James
told the Associated Press
on a night when
Dwyane Wade
scored 38 points.
"James Jones' 25 points off the bench was key for the Miami Heat, as was their execution of the drive-and-kick offense," NBA Hall of Famer
Magic
Johnson
added on Twitter.
Like his Heat team as a whole, Jones struggled against the Celtics during the regular season, scoring just 15 points combined in Miami's four games against Boston, shooting 4-for-12 from the field. In characteristic fashion, all 12 of Jones' attempts during the regular season were three-pointers, as his role as the weakside corner three-point specialist is clearly defined. His job is to make defenses pay for over-committing on James and Wade. Knock down the shots when they're open. but no freelancing, under any circumstances.
On Sunday, Jones played that part to a T, shooting 5-7 from deep on his way to 25 points, and exceeding the number of field goals made and points he registered in all four regular season games against the Celtics combined. Jones' 25 points were not only a season-high, they were also the most points the journeyman forward has scored since he hit 25 for the Phoenix
Suns
more than four years ago, on Jan. 7, 2007. The AFP notes that Jones' 25 points was
a franchise record
for points scored off the bench during a playoff game.
Jones also single-handedly outscored Boston's bench, 25-23. That was particularly huge, given that most analysts agree that Boston is the significantly deeper team in this series.
His Game 1 shot chart is beautiful and it comes with no surprises. All seven of James' attempts came from deep, meaning Jones has now taken 19 three-pointers and zero two-pointers against the Celtics in five games this season. This chart simply reinforces the idea that there is something to be said for singular brilliance. it doesn't take an all-around game to be a game-changer in the playoffs.
Take a look.