Posted by Royce Young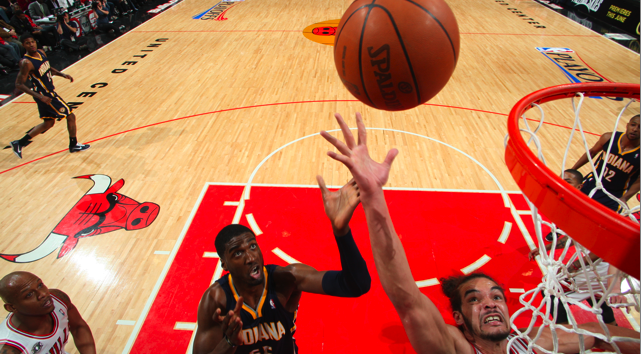 The Narrative:
So close. I mean so,
so
close for the
Pacers
. They would probably trade
T.J. Ford
and a bag of money to be bringing back a tied series to Indianpolis, but they weren't far off from holding a 2-0 lead. Instead, things are exactly where we expected. Down 2-0 to the superior
Bulls
, it's pretty obvious that the Pacers have to win this game. It would be a pretty substantial victory for Indiana to take one playoff win with them to the offseason, but this feels like a sweep if it doesn't happen tonight.
The Hook:
Will
Darren Collison
play? He's a game-time decision as it stands now, but if Indiana wants any legitimate shot, they need a healthy Collison. He adds so much and not just in terms of solid point guard play. Collison is a scorer, a creator, a defender and a leader for the Pacers.
He's not the type of player that will take over a game by any means, but it's more a function of process of elimination for the Pacers. Subtract Collison and that means it's all
A.J. Price
, all the time. Indiana's just not winning if that happens.

The Adjustment:
Here's something: rebound the darn ball. The Bulls have completely crushed Indiana on the glass in the first two games. The Bulls haven't been that great offensively, but because of 41 offensive rebounds, the Bulls have had plenty of extra opportunities to let
Derrick Rose
kill the Pacers. I don't see an adjustment coming for Indiana in this department mainly because the Pacers just don't have the horses inside to compete on the boards with
Carlos Boozer
and
Joakim Noah
.
The Bulls are much better than the Pacers already but any time a team is getting 20 offensive boards in a game, it's near impossible to win. And yet there the Pacers were in both games. If they can keep the rebounding margin to 10 and limit the Bulls on the offensive glass, maybe there's a chance.
The X-Factor:
The Pacers are going to be searching for one tonight. That's the best way underdogs win is because someone unexpected elevates their game and has a big night. In Game 1, the Pacers almost pulled off the win because of
Tyler Hansbrough
. But he was a non-factor in Game 2.
Who is the prime candidate to possibly make a difference tonight? How about
Roy Hibbert
, who has been a bit inconsistent so far in this series? The Pacers want to beat you by outshooting you on the perimeter, but what makes them pretty solid is when Hibbert has things working inside. He's good enough to score on Noah one-on-one, but he hasn't been able to get going and the Pacers sort of stopped looking for him in both games. Indiana has failed to execute late and the best medicine for that are easy baskets and Hibbert can give you those.
I'll throw out
Paul George
as a potential impact player too just because he's done well defending Rose in stretches. And with the way the Bulls are operating, if you can stop Rose, you can win.

The Sticking Point:
It's really hard to get past the fact that it just feels like Indiana missed its opportunity. The Bulls aren't going to continue to coast for long. They are plain and simple much better than the Pacers. And they have Derrick Rose, which is quite the trump card in itself.
Lose tonight and it's time to start thinking about the draft. You're not digging yourself out of a 2-0 hole most likely anyway, but you're definitely not coming out of a 3-0 one against Rose and Tom Thibodeau. If the Pacers have any thought to try and get back to Chicago for one more game, they have to take this one. Just doesn't feel very likely though.