Posted by Royce Young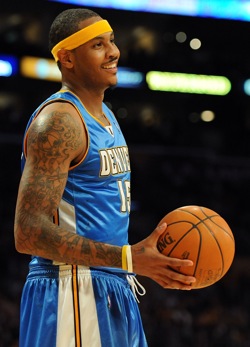 At some point,
Carmelo Anthony
will be dealt. I'm convinced.
Until then, we'll just have to settle for a rumor here, or some talks there.
But according to Marc Stein and Chad Ford of ESPN.com
and confimed
by Ken Berger of CBSSports.com
real progress is being made. Progress as in a proposed four-team deal.
Though some reports from earlier in the week said
Nets
rookie Derrick Favors was untouchable, there's a deal proposed that would send Anthony to New Jersey.
Involved in the deal would also be Charlotte and Utah. Denver would receive multiple first-round picks,
Andrei Kirilenko
from Utah (and cap relief) and Favors from New Jersey.
Devin Harris
would head to the
Bobcats
and
Boris Diaw
to the
Jazz
.
So take that all in for a second.
Now, of course the hanging chad here is if Carmelo is willing to sign an extension with the Nets. It's become pretty clear that New York and Chicago are Anthony's preferred destinations. But both of those teams don't appear to be serious players at this point. Chicago isn't willing to add
Joakim Noah
to a deal and the
Knicks
simply don't have what the
Nuggets
want.
Stein said the teams are "seriously engaged" in the talks and right now, the trade could potentially drop at any minute. The Nuggets probably prefer to get something done over the weekend if they're convinced Anthony won't come back to signing the extension in Denver. Training camp starts next week and surely management would like to move on with a fresh start rather than having the Melo shadow looming over everything done in camp.
Nothing is done until it's done, but this is a pretty serious deal. The Nuggets would get pretty much exactly what they want, the Nets get Anthony and Utah and Charlotte get to unload some salary.
Utah has worked extremely hard to restructure its salary situation and this deal could get them out of the red. A Kirilenko-Diaw switch gets Utah comfortably out of the luxury tax area. In fact, it could be somewhere in the double-digit million tax move. Instead of paying $5 million, Utah could be looking at a $5 million payout .

And of course Charlotte gets a nice point guard in former All-Star Devin Harris. Nothing wrong with that for trading Diaw, who looked pretty fat during the World Championships.

Berger noted the deal is "nowhere near" to completion because of the complications of getting such a deal done, but the talks are happening and the Nets are pushing.

But by the way it sounds, it comes down to Anthony's future plans. If he's willing to ink long-term in New Jersey, this deal could end up going through. And it might just work out decently for everyone.