Posted by Royce Young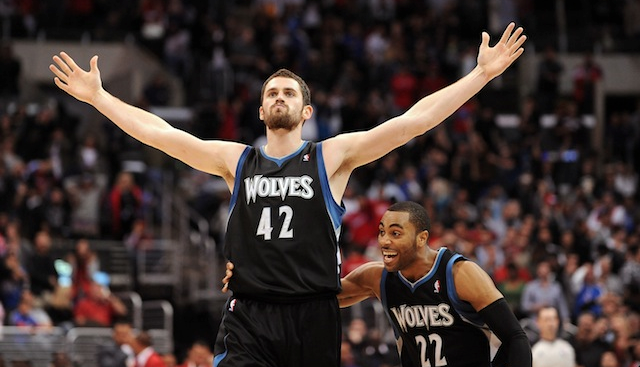 Despite leading the West in rebounds and sitting third in points, Kevin Love wasn't named a starter.
(Getty Images)

The starting fives for the Eastern and Western Conference were announced Thursday night
and while there weren't any surprises from the fan vote, the question is, should there have been?
By default this season, the fans weren't afforded the opportunity to really mess this up as Yao Ming retired and wasn't on the ballot. But I'm sure he's still somehow going to be named the Western reserves anyway. It wouldn't be a proper All-Star Game without him.
But let's figure it out: Did the fans get it right?
EAST
Obviously
Derrick Rose
is the right choice at point guard. The alternative option would be
Deron Williams
I suppose. Or
Rajon Rondo
, who finished second. Or if you wanted to get clever, maybe
Jrue Holiday
or
Kyrie Irving
. But Rose is the obvious correct choice despite him missing a handful of games with an injury. You don't snub the reigning MVP.
But at shooting guard, there's a case to be made for someone else here. Wade is the obvious top 2 in the East, but he's only played in 13 of Miami's 22 games this season. His numbers are good and he's as much a superstar as you can be, but if you want to give it to a deserving player, you could point to
Joe Johnson
who is leading the
Hawks
to the top of the East despite Atlanta having lost
Al Horford
. Still, Wade's the choice. Just the way it is.
Dwight Howard
, check. Moving on.
The two forward spots is where I'd point to a mistake by the fans.
LeBron James
is obviously the right pick, but
Carmelo Anthony
is not. Not only has he missed a good chunk of New York's season, but he's not even playing that well. His team stinks and Melo's putting up near career-low numbers. You know who deserves that spot?
Chris Bosh
, believe it or not. Bosh has quietly had a terrific season for Miami. A 21.0 PER, 20.4 points and 7.8 rebounds per game. Bosh deserves to start. Melo absolutely does not. Quite honestly, I'm not even sure if he's a reserve at this point.
WEST
If I wanted to have things thrown at me, I'd say
Russell Westbrook
deserves to start ahead of
Chris Paul
. CP3 missed a number of the
Clippers
' games and Westbrook has followed up last season's breakout with another terrific start. But I won't go there. CP3 showed Wednesday in Utah why he's not just the best point guard in the West, but the entire league.
Kobe Bryant
, not going to argue with that. Honestly the only player that you could even recommend right now with
Manu Ginobili
being hurt is
James Harden
. And that's not at all reasonable.
Kevin Durant
, check. He's not just scoring the ball well again this year while averaging career-highs in rebounding and assists, but his team sits atop the West and he's a solid MVP candidate.
Andrew Bynum
gets the starters nod almost by default of being the best center in the West, but you could try and make something for
Marc Gasol
or Nene. Clipper fans want to point out
DeAndre Jordan
's defense, but come on. Bynum is averaging career-highs with 16.5 points and 12.1 rebounds per game. Bynum is the right selection, but not by too much.
Where the fans whiffed was at the 4 again. Yes, that means I'm going to tell you why
Blake Griffin
, even with his detonation of the Internet by posterizing
Kendrick Perkins
, is not the choice. Griffin's had a terrific season thus far, but I don't see how you deny Kevin Love. He doesn't have the highlight resume and doesn't have an arena oohing over a good offensive rebound, but Love leads the West in rebounding, is actually third in the West in scoring and has a PER of 25.87.
Griffin's numbers are great and you could even try and say
LaMarcus Aldridge
or
Pau Gasol
are deserving of mentions. So there they are. But that spot is owed to Love. His numbers are just too good to deny and there's not the excuse that his team is terrible anymore. The Wolves are nipping at that eight spot and are playing good basketball.
Plus,
Love did this to Griffin
, which should count for something, right?