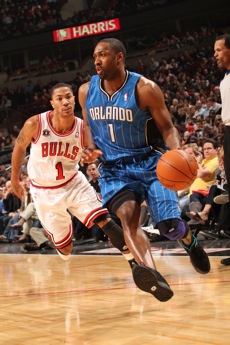 Posted by Royce Young
Ted Leonsis went on record saying he didn't want to see
Gilbert Arenas
traded and that Arenas was part of the
Wizards
long term future.
And then Arenas was traded a few weeks later.
Most saw it as the usual NBA person says one thing and doesn't mean it story,
but according to Michael Lee of the Washington Post,
Leonsis really didn't want to see Arenas moved, until Arenas started talking.
The idea of trading Arenas was given a thumbs up after Leonsis became angry with some comments from the point guard. Lee writes: "A person with knowledge of the situation said Leonsis became upset after hearing that Arenas was telling those close to him that a home loss to the Los Angeles
Lakers
would be his final game in a Wizards uniform and that he was likely headed to Orlando. The comment was a surprise to Leonsis, according to the source, because he was unaware of any trade discussions involving Arenas. Arenas played the next game, a loss in New Jersey, but was dealt two days later."
Honestly, I don't really get it. So Leonsis was upset because Arenas thought he was going to be traded? I'm sure he did because his name was associated with a ton of rumors and after the Wizards, you know, drafted
John Wall
, Arenas became expendable.
But maybe Leonsis was looking for a reason to move Arenas and he found it because of the comments. Who knows.
Arenas returns to Washington for the first time tonight as the Wizards host the
Magic
. Arenas was of course dealt to Orlando Dec. 18 for
Rashard Lewis
.
I'm sure there's no hard feelings on Arenas' side of things because he was very appreciative of the Wizards when he left. He had some good years there accompanied by some serious turmoil, but was always a fan favorite.