The Miami Heat crash-landed in Game 3 against the Boston Celtics. Posted by Ben Golliver.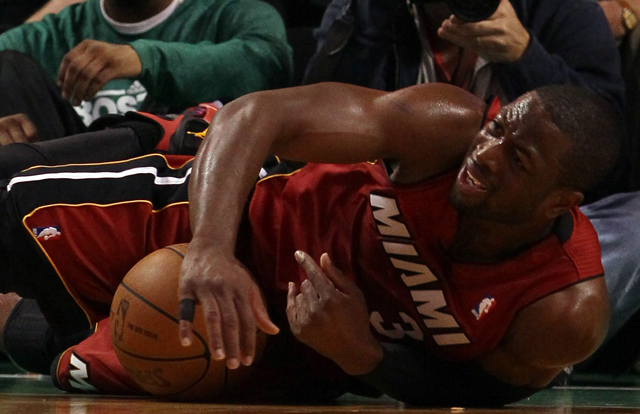 Game 3, in many ways, saw the Miami Heat's greatest fears realized ... and all of them on the same night.
Chris Bosh
didn't show up. The role players didn't play their roles. The questionable starting lineup was worse than usual. And neither
LeBron James
nor
Dwyane Wade
was capable of an explosive performance to carry all that dead weight.
With the 97-81 home win on Saturday, the Boston Celtics chipped into Miami's series lead, narrowing the gap to 2-1, and took a huge swipe at the Heat's building confidence.
The loss, apparently, is sending Heat coach Erik Spoelstra back to the drawing board.
Asked by the Associated Press
whether he would consider a starting lineup change, Spoelstra said, "I will evaluate everything, A to Z." Of course there's only two players to evaluate --
Mike Bibby
and
Zydrunas Ilgauskas
-- and that process is sure to be an ugly one. Bibby contributed just five missed shots, one assist and one turnover in 14 minutes, while Ilgauskas played just eight minutes on Saturday and is now just 2-9 on the series.
Not much is expected from either player, but it doesn't help that their backups are playing solid basketball.
Mario Chalmers
had 17 points in Game 3 after being relatively ineffective in the first two.
Joel Anthony
, meanwhile, had a career night, scoring 12 points and grabbing 11 rebounds in 33 minutes. In deciding whether to move one or both to the starting lineup, Spoelstra is balancing whether that would overly frontload his rotation. With such a short bench, Spoelstra needs any punch he can get from his second unit, and with LeBron James, Dwyane Wade and Chris Bosh already starting, the point guard and center aren't asked to do much more than knock down open shots and finish at the rim, respectively.
Nevertheless, Miami found itself in an 18-7 hole early, and Boston began the third quarter on a 14-4 run. Those are major deficits, and are very difficult to overcome, especially on the road.
Anthony, in particular, probably deserves the nod, given that he's already playing starter-type minutes. Spoelstra could then save Ilgauskas to match up with whatever minutes
Shaquille O'Neal
plays, allowing the two hulking veteran centers to cancel each other out. When it comes to Bibby, there's no easy answer: He's shooting an abominable 26.3% in the playoffs. There's no hiding that type of performance, especially against Boston's defense.
Bigger than the lineup issues was the predictable disappearance of Chris Bosh. Bosh was eaten alive by
Kevin Garnett
, who had a season-high 28 points and 18 rebounds. In contrast, Bosh tallied a season-low six points while grabbing just five rebounds. For a player that's battled back against criticism that he comes up small in big moments and is overly passive, he came up microscopic in a huge moment and was as passive as it gets. Bosh's Game 3 was a transcontinental pipeline to help give fuel to his haters.
No play better encapsulated Bosh's night than
Rajon Rondo
's miracle steal and dunk. After leaving earlier with a dislocated elbow that was popped back into place by Boston's training staff, Rondo caught Bosh napping. As Bosh went to track down a loose ball near halfcourt at half-speed, Rondo jumped him, picking Bosh cleanly before heading in for an uncontested dunk. The play began when
Jeff Green
over-played the passing lane to tip Bosh's lazy pass, and Bosh's effort to recover from that mistake lacked urgency and awareness. He has to do better. There's no excuse.
The struggles from Miami's role players and Bosh's wilting performance are a reminder that Miami isn't yet a monolith, or even a Goliath. They're a two-headed monster capable of playing a more athletic game than any other team in the league, but also one that over-relies on James and Wade to a precarious degree.
If there's a silver lining to Saturday's loss for the Heat,
it's Rondo's injury
. Without question, he will be limited for the remainder of the series and his ability to shoot the ball, which was already in question, will be virtually eliminated. Miami should be able to make the necessary defensive adjustments to capitalize on that fact: overplaying the passing lanes, pressuring Rondo as he brings the ball up the court, overplaying his right hand mercilessly and daring him to shoot from the perimeter.
In addition to Rondo's status, Miami still has plenty to bank on: homecourt advantage, the fact that Boston played with a do-or-die urgency that will be difficult to replicate multiple times, and, of course, the James/Wade combination. In other words, Saturday wasn't a knockout blow for the Heat, but it is gut check time. It's going to be a long haul to close the door on the Celtics, and it's surely going to take more than two guys to get it done.