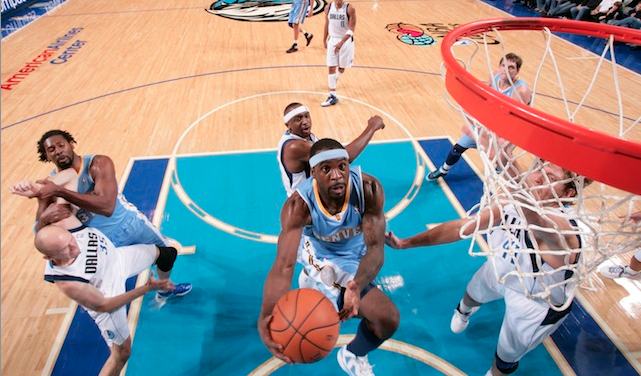 By Matt Moore
The first full night of games and it was a doozy. Rookie debuts, buzzer-beaters, and some vomit. The NBA is back in all its glory. Here are your grades for Monday, December 26th, 2011.
A: Denver Nuggets:
Yeah, it was against the same team the
Heat
ran out of the building Sunday, this time on the second night of a back to back. But the
Mavericks
are still the defending champs and the Nuggets
ran them out of their own building
. It wasn't just the offense, either, though they were en fuego (49 percent from the field, 56 percent effective field goal percentage). Denver was also dialed in defensively. The best wins are those in which your offense allows you to set your defense to attack, which creates opportunities for your offense and it becomes a vicious cycle for your opponent. The Nuggets were like a race car wheel roaring down the track. They forced 19 turnovers, creating 20 percent more opportunities for themselves, and they took full advantage.
Ty Lawson
was a speed demon and when the Mavs did get in front, he smoked them from the perimeter (3-6 from the arc, 27 points).
Al Harrington
not only provided a huge offensive lift off the bench, he was engaged defensively. At one point he created a steal which bounced to
Danilo Gallinari
, who ran the floor then stopped and shoveled it back to a sprinting Harrington for the dunk. The Nuggets played so wel they could mess around on fast breaks. Dominant performance in their first season opener since 2003 without
Carmelo Anthony
.
B: San Antono Spurs:
A little bit of revenge
after the
Grizzlies
eliminated them from the playoffs last spring. The Spurs, six months removed from a season where they were an offensive juggernaut but couldn't stop anyone, especially down low, got back to their roots. They held the Grizzlies to an 86 offensive efficiency (points per 100 possessions),which is elite status. They got back to defending, rebounding, and grinding their opponent to dust. Throw in a surprising performace from
Richard Jefferson
and an impressive debut for
Kawhi Leonard
, and all of a sudden, the "past their prime" Spurs look like they might be getting back to what made them great.
C: New Jersey Nets:
Well, they were down 21 points at one point to the Washington
Wizards
who were playing without the fifth pick in the draft,
Jan Vesely
. The Nets looked lost, inept, ridiculous. And then they turned it on. Outscoring the Wizards 53-39 in the second half, they
fought their way back into it
and watched Flip Saunders' team self-destruct.
Deron Williams
was the exerienced All-Star. And
Kris Humphries
, man of the hour. 21 points and 16 rebounds, cleaning up misses and killing the Wizards down low. This was a game that's hard for either team to feel good about because of the opponent, and being down 21 to the Wizards is madness. But they won, and they'll take it.
D: Kobe Bryant:
Here's what is working for the
Lakers
right now, without
Andrew Bynum
, and
why they fell apart in a loss to the
Kings
. Ball movement, hustle and intelligent, efficient play. And the Lakers, after a lackadaisical game had them out of reach, fought their way back with that exact kind of play. And once again, Kobe Bryant went hero mode and once again, an opportunity to win was squandered by the Hall of Famer. The entire Lakers get a "D" here for failing to play any on the perimeter. (Seriously, Mike Brown, what's it going to take for
Derek Fisher
to get yanked? How many times must
Tyreke Evans
blow past him or block him?) But the Lakers keep getting within range through team play, and then Bryant attempts to take the team on his shoulders like he used to. That Kobe is gone, at least until the wrist heals. 24 field goal attempts for Bryant, who leads the league by a mile in usage percentage (percent of possessions used -- tricky stat that), and two turnovers, including an offensive foul late. A bad month for the Black Mamba gets worse.
F: Dallas Mavericks:
You have GOT to be kidding us.
Other notable grades:
Incomplete:
Chicago
Bulls
: Are they as bad as they have looked in the first two games after a loss to the
Warriors
on the road to open the season? No. But they do look bad. Really bad. But with a 1-1 mark, considering the schedule (two West coast road games to start the season on consecutive nights) and the opponent (a Warriors team with confidence after nearly nailing the Clips, even if they were on their own second game of a back to back). The Bulls fought back in and made it a game late, but if they don't make up their homework to the teacher, bad grades are coming.
E for Effort:
Minnesota
Timberwolves
. Open the season with a narrow loss to the
Thunder
?
Rubio looks great
.
Derrick Williams
looks promising.
Kevin Love
is an All-Star. The effort was there for the Wolves, and they're only going to get better.
Gold stars:
Eric Gordon
(
CLUTCH
).
Alonzo Gee
.
Ed Davis
. Danilo Gallinari.
Sean Williams
.
Roy Hibbert
.
Manu Ginobili
.
Marcus Thornton
.
Stephen Curry
.
Tristan Thompson
. Tyreke Evans.
LaMarcus Aldridge
.