Posted by Matt Moore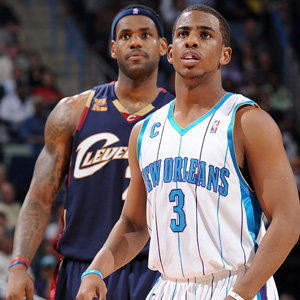 The words are not weak.
Chris Paul
, a young man that has brought himself to be not only arguably the best point guard in the National Basketball Association, but an important member of both the social and business communities in New Orleans and his home of North Carolina, is being regarded as weak. This behavior as of late,
the trade demands
, the partying, the sulking, it's not like Chris. This isn't who he is. At least, that's how it's being regarded in the media. In reality, nothing about his behavior seems out of order for a young point guard on a struggling team. So naturally, the wheels of blame have begun to turn. We like Chris Paul too much to make him into an egotist. There must be something else at play. Let's see... charitable, no... hyper-competitive... no, can't blame that, that makes too much sense... ah! I got it!
LeBron James
DID IT!
But even as the idea sounds ridiculous and fabricated, there are good reasons to head in that general direction. Nowhere has that been as explicitly outlined as in Adrian Wojnarowski's article that all but drew
scepters and pentagrams around James
and his marketing firm, LRMR. That was
then followed up by James tweeting
:
"Best of luck to my brother @oneandonlycp3 . Do what's best for You and your family"
Which is a nice sentiment, but still seems like James intruding into matters which are not his business. And if that's a wee bit of tampering, we can only imagine what went on this weekend when the two were
partying it up in Vegas
. In the midst of all this is a report that Paul himself has
not
signed on with James' marketing firm
, LRMR. This contradicts
a July 8th report
saying just that, along with the indication that Paul has joined CAA, which also represents LeBron James and the other two super-friends.
It's been confirmed that Paul has left Octagon, but not that he has joined LRMR. He's hanging out with LeBron, but we don't know if they talked about business at all.
The question we need to be asking ourselves is if Chris Paul is really that easily "corrupted" or "influenced" or whatever term you'd like. Is this player who has shown a tremendous amount of maturity in his short time in the NBA really being "turned to the dark side," or whatever overblown phrase you'd like to use, by a marketing firm that has yet to land a marquee client or business deal and a player that has yet to win a championship? There's no doubt LeBron is powerful, arguably the most powerful player in the NBA. And there's no doubt the two are friends. But in all of his dealings, CP3 has never come across as the type to be railroaded or to do as he's told. He seems much more like a motivated individual that keeps track of his dealings and has a clear set plan for establishing his legacy.
Turning his back on New Orleans doesn't seem like it's in his character, that's true. But for a guy who's known as one of the most competitive players in a hyper-competitive environment (ask Julius Hodge about that), a trade request from a team that's been spinning its wheels doesn't seem out of line. The most logical conclusion is that LeBron James definitely did have an impact on this, but not in pressuring Paul, but by leading by example, even if that example is currently being spit on by most of the free world.
James' decisions in the last two months have been driven by an athlete-centric decision tree. He's not putting the fans first. Not putting the teams (and thereby their owners) first. He's putting himself and his brand first. And in doing so, he's helped increase the arms race that started three years ago with the
Kevin Garnett
and
Ray Allen
trades that made Boston a champion and pushed the
Lakers
towards the Gasol acquisition. This is how you win championships, by playing on loaded teams, not by shouldering the burden. Paul has watched three of his best friends become a superpower, while he is playing for an 8th seed in the West with an aging core and two young
Bucks
, one of whom plays his position.
Paul can't stand to be left behind. That's what James has shown him. That if he wants to keep up with the tone of progress, he's going to have to take matters into his own hands. The question is if the
Hornets
are going to blink first.