New York Knicks president Donnie Walsh will have hip-replacement surgery next week. Posted by Ben Golliver.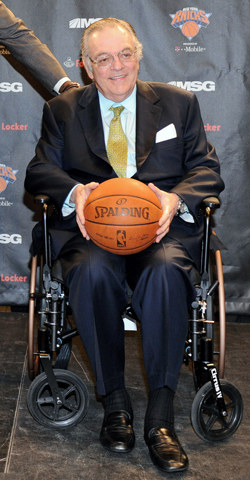 The New York Times reports
that New York Knicks president Donnie Walsh, a long time NBA executive, will have hip-replacement surgery next week.
The procedure, Walsh said, would allow him to walk without the use of the walker or a cane. He made the decision after consulting with multiple doctors.
"They both said, 'Your legs are strong, your neck is healed, your balance is fine,' " Walsh said Wednesday before the Knicks played the Golden State Warriors. "When you disrupt your spinal cord and lose your bearings, you have to learn how to walk again. I've gotten through a lot. My legs are much stronger. I can walk down steps if I'm holding on to a wall but if I don't have a cane or something. But if I'm walking alone and I have to dip, it throws me off balance."
Walsh has done a nice job of undoing Isiah Thomas' mess in New York, sacrificing tons of assets to unload ugly contracts so that he could sign all star power forward
Amar'e Stoudemire
last summer and be a player in the 2011 free agency market. But he has had to deal with
reports this summer
that Thomas is trying to weasel his way back into a management role with the New York Knicks. And, to make matters worse, Walsh has also had to deal with
explosive allegations
about illegal pre-draft workouts conducted during the Thomas era that could result in a fine and/or forfeiture of draft picks for the organization. So there's a certain symbolism to the surgery here, as Walsh looks to get back on his feet as he works to help a once proud organization do the same.