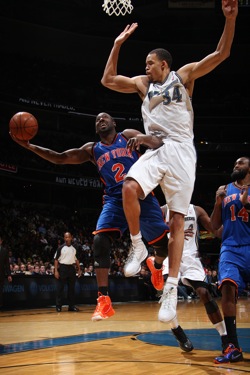 Posted by Royce Young
Following
Andray Blatche
and
JaVale McGee
's altercation last week, reports started bubbling up that the
Wizards
were
shopping both big men to test the market for them.

Turns out it might just be Blatche that's having his name passed around.
Via the Washington Post:
According to two Western Conference executives, the Wizards are gauging interest in Andray Blatche to determine if trading the skilled 6-foot-11 forward is best for the organization moving forward.


The executives said McGee is "not yet" on the market, despite reports to the contrary . McGee, a third-year center who participated in Team USA tryouts last summer, is averaging career highs of 9 points, 8.3 rebounds and 2.5 blocks. But he is still playing on his rookie contract, which pays him $1.6 million this season and would limit what he could bring back in return.

"JaVale seems very not available," one of the executives said.
If the Wizards are simply looking to separate the two because of the altercation, it makes sense to keep one. McGee is probably the player with more upside, though both have underachieved thus far in their young careers.
But much like the Gilbert Arenas-Javaris Crittendon gun incident from a year ago, Washington didn't move both out of town, instead just dropping Crittendon.
The Wizards haven't been happy with the way Blatche approached this season after breaking his foot over the summer. As a result he came into the season a little fatter than expected and has been working to get in shape since opening night. This coming after he signed a three-year extension that will pay him $28 million between now and the 2014-15 season.
More than McGee, Blatche has been a problem child. After his one-game suspension because of the fight with McGree, Blatche has now been suspended twice this calendar year. He was sat down for a game last season after getting wildly upset with coaches and trainers during and after a game. On top of that, he got into an argument with Flip Saunders last spring after he didn't check back into a game.
Add in that Washington just acquired a new 6-10 power forward in Rashard Lewis and it's clear that Blatche is the more expendable of the two. (Though Lewis probably isn't really part of the long-term plan.) Blatche carries a lot of baggage with him though, and I don't just mean the excess weight. McGee probably would've solicited a few more call-backs.