Everything is going the Hawks' way as they take a 3-1 series lead over the Magic. Can Orlando hit water if they fell out of a boat?
Posted by Matt Moore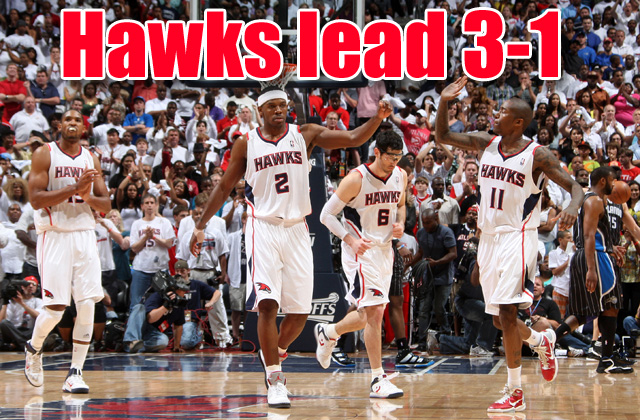 It could have been legendary. It would have been fitting if, in the same weekend
Brandon Roy
put up a "flashback" performance in a win over the
Mavericks
,
Gilbert Arenas
finally, successfully had an impact on the game. The problem? The Hawks are still that much better. Or, at least they are right now. And they've got the series advantage to prove it, moving within one game of advancing to the second round with a win over the Magic Sunday night.
Instead of reveling in the late-game heroics of Agent Zero, who was 9-18 for 20 points, we're left with the same pattern we've seen all series: Jamal Crawford getting it done.
Crawford will never get the kind of love Arenas earned with his antics and personality, but he's as fit as anyone in the playoffs of being labeled the modern "Hibachi." He scored 25 points Sunday night, and has averaged 24 in the playoffs on 47 percent shooting. What's stunning is his perimeter work. Check out his shot chart in the playoffs
courtesy of NBA StatsCube
: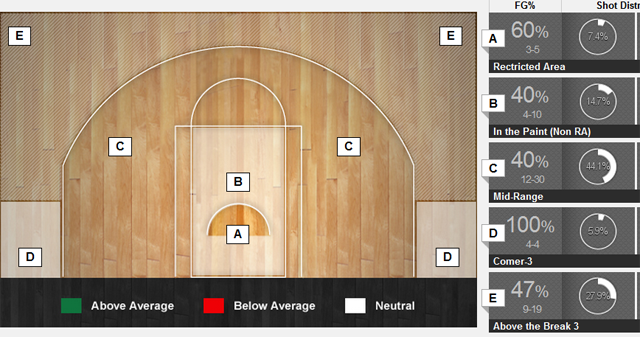 Crawford is 4-4 from the corner. That's 12 points in a series in which the Hawks hold a 2.7 point differential. That's a pretty big deal. Crawford has been downright incredible in this series, even if you think his bank shot to win Game 3 was "lucky." The MVP of this series is going to be Crawford, but down the stretch, it wasn't Jamal making plays in Game 4. It was the man with The Contract, the much-derided, often-forgotten All-Star,
Joe Johnson
.
Johnson scored six points in the final 1:34, first with a runner, and then with clinching free throws. Sure, the free throws were gimmes. But when you absolutely have to have those free throws, no one remembers the guy that makes them, only the guy that misses. Johnson calmly knocked them down, and finished with 20 points on 15 shots and 9 rebounds. He had six turnovers and a wealth of wasted ISO possessions, but really, that's the Hawks. That's who they are. So beating them up on a night where they hustled, and pushed, and worked their way to a win over the higher-seeded team with the best player in the series, seems disingenuous. It'll still be done, but the Hawks worked for this one.
And the Magic? They just couldn't hit. The word panic is used in the playoffs too much. But there's no other word for what happened to their offense. Those drive and kick threes? They kept shooting, over and over again, trying to force one to rattle home in order to kickstart a flood that would never come. There's no rain in Atlanta in the spring. Or Orlando, apparently. The skies have been dry in this series and the drought reached "Grapes of Wrath" proportions Sunday night as the Magic shot ...
Wait for it...
You ready?...
2-23 from the arc.
The Orlando Magic, one of the best perimeter shooting teams over the past four years, shot 9 percent from 3-point range. Nine. It doesn't get worse than that. It can't possibly, can it?
Jameer Nelson
,
Hedo Turkoglu
, and
Ryan Anderson
combined to shoot 0-14. If that won't doom you, I don't know what will. The Hawks did their part, running off threes, contesting
Dwight Howard
inside, even without
Zaza Pachulia
, and getting contributions from
Kirk Hinrich
and
Al Horford
.
It wasn't pretty, and people are in love with trashing this series for its offense without recognizing the athletic defense being played on both sides. But, once again, the Hawks are a little sharper, a little stronger, a little smarter, and find a way. The series isn't over, with the Hawks up 3-1 headed back to Orlando. If the shooting percentages change, this series could get tied up in a hurry. But the Hawks have shown nothing but determination in this series so far, and everything seems to be going their way.