Questions abound for the Thunder going into Game 4, but one thing's for certain: It's a must-win.
Posted by Matt Moore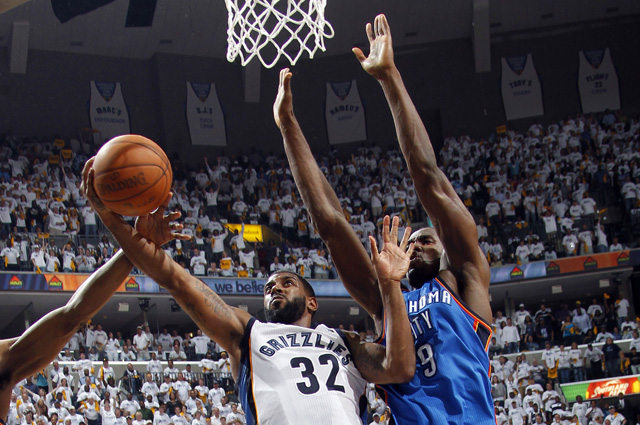 One Big Thing:
What did Game 3 really tell us? The Oklahoma City Thunder played really well for about 42 minutes. The Memphis
Grizzlies
played terribly for about 42 minutes. Grizzlies won, Thunder lost. So the questions we have to ask are:
If OKC simply held its composure for another five minutes, they win. So are they doing the right things, and just had a bad spell, or is this a warning that playing well but not great (as they played great in a Game 2 victory) will not be enough against a Memphis team that has zero quit?
Memphis nearly let the game get out of hand, then stormed back to win. Can the Grizzlies afford to play subpar for long stretches and hope to create another epic collapse as they have several times in these playoffs?
The Thunder have lost when role players like Eric Maynor, Serge Ibaka, and Nick Collison haven't stepped up. Does Kevin Durant need more of the offense to compensate, or can OKC trust its supporting cast?
Memphis has won once with a terrific game from Zach Randolph, and once with a high-usage, low-efficiency performance that was deceptively poor. Do they have to get a masterful game from Randolph, or just make sure he gets his 20+ points by hook or by crook?
Game 3 feels like it may have revealed the identity of this series. We're just not sure yet what that identity is. We'll know more after Game 4. A win for OKC makes Game 3 seem like a fluke, while a loss? That calls into doubt just how much the Thunder really are in this series.
The X-Factor:
Turnovers. Memphis creates so many, but the Thunder have done well in containing theirs in this series... until that last five minutes of Game 4. Then things completely fell apart. If the Thunder don't contain their turnovers, Memphis gets out in transition. Easy buckets negates the advantage the Thunder have defensively. It's in some ways a Catch-22 for the Thunder. They're supposed to have more ball movement from
Russell Westbrook
, but more ball movement increases the chances of the Grizzlies' hyper-aggressive play of the passing lanes leading to turnovers. Crisp, smart offense is a must for the Thunder. They did so well for most of Game 3. But if that was an outlier and the end is the pattern for this series, the Grizzlies will be playing their game on their floor.
The Adjustment:
O.J. Mayo
has had a bounce-back series. He's playing well enough to start Game 4, but Lionel Hollins will stick with his rotation. The issue is that
Sam Young
had advantages in size versus the
Spurs
, but the Spurs never exploited him in terms of perimeter speed. The Thunder are very intent on doing so. Mayo did a shockingly good job vs. Russell Westbrook in Game 3, and his speed on the perimeter allows Conley to play the off-guard which is also helpful. Even though Mayo won't start, expect more lineups and time for Mayo. If he gets his shot to where it needs to be
and
makes plays like he can, the Grizzlies are going to neutralize a big advantage the Thunder thought they'd have coming into the series.
The Sticking Point:
Oklahoma City has looked like a better team in this series for seven of twelve quarters, but are down 2-1. If the Grizzlies have a good game vs. a good fourth quarter like they had in Game 3, the Thunder could be down 3-1, going back to OKC and in a huge hole. They have matchup advantages, no one can stop Kevin Durant, their defense has been superb, their role players have stepped up, Serge Ibaka is hitting jumpers, Zach Randolph is no longer dominating, the Thunder are controlling the paint, and
James Harden
looks like a sixth man of the year candidate. And the Thunder are down 2-1. Game 4 is the one where either the seemingly superior team asserts itself and gets back on track, or we start wondering just how much lightning this Thunder has.