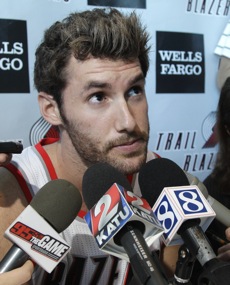 Posted by Royce Young
Before Portland's media day even started, there was a question of
Rudy Fernandez
would
leave his hotel room and show up.
Eventually he came out of hiding and made an appearance at media day where of course he was asked about the highlights he put in his hair. Oh, and that other thing. The wanting-to-be-traded thing. Fernandez's response? He still wants out.
Fernandez said he "prefers the European style" and wants to return to Europe to play professionally there. "I don't feel good in NBA," Fernandez said.

The Blazers have been pretty clear that they want to keep Fernandez. General manager Rich Cho has given no indication of releasing Fernandez though there are definitely reports of Cho trying to trade him. Nate McMillan has said he wants Rudy on the team and intends to try and find court time for him if he's there.

But that doesn't appear to be changing Fernandez's mind. Over the summer, he made his position clear many times, so much so that the league fined him $25,000 for all his talk. Then right before camp started he wrote on his blog that he was excited for a new season and looked forward to playing. Yet when he actually arrives in his city he can't decide if he wants to leave the hotel and when he does, he still asks out.

With how vocal Rudy has been, it's hard to imagine him actually landing on the court for Portland. Cho is surely still shopping him but Fernandez is too much of an asset to give up for peanuts. But with Fernandez making his wishes so clear, things get a little more complicated. And as if they didn't already have enough to worry about.