The Boston Celtics expect center Shaquille O'Neal to be ready to play once the playoffs start. Posted by Ben Golliver.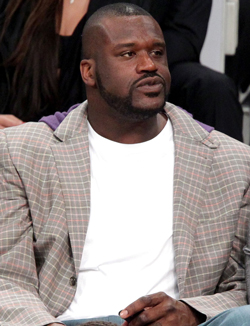 Boston Celtics president Danny Ainge is drowning in an ocean of despair these days, as the complaining about his trade of center
Kendrick Perkins
at the deadline has reached record levels. One man can throw Ainge a life preserver: Shaquille O'Neal.
Boston's aging center has played in just 37 games so far this season, averaging 9.2 points and 4.8 rebounds, easily career-lows in both categories. But O'Neal is the best hope the Celtics have for injecting some toughness and a paint presence in Perkins' absence.
The good news for Celtics fans,
the Boston Globe reports
, is that Ainge expects O'Neal to be ready to go once the playoffs start later this week.
Celtics president Danny Ainge told the Globe this afternoon that Shaquille O'Neal is unlikely to play in Wednesday's season finale against the New York Knicks but is expected to practice Thursday and be ready for Game 1 of the Celtics' first-round series Saturday or Sunday.
O'Neal, who missed 27 games with an Achilles tendon and foot injuries and then played 5 minutes, 36 seconds in his return before straining a right calf muscle, has missed the past games, including Monday's road finale against the Washington Wizards.
"We're planning as of right now of him practicing Thursday or Friday and being ready to play for Game 1 of the playoffs," Ainge said. "I have every confidence that he will be ready and play in the playoffs."
It's all settled: The No. 3 seed Celtics will face the No. 6 seed New York Knicks in the first round. The good news for Boston is that New York doesn't have a capable center either, so even if O'Neal is limited upon his return it shouldn't necessarily be a difference-maker.
Looking down the road at Boston's potential second round opponent, the Miami
Heat
, their potential Eastern Conference Finals opponent, the Chicago
Bulls
, or their potential NBA Finals opponent, the Los Angeles
Lakers
, a player with Shaq's size and presence has significant value, as Boston's other interior options include
Nenad Krstic
and
Jermaine O'Neal
. One bright spot: unless the Orlando
Magic
pull an upset over the Bulls, the Celtics should avoid
Dwight Howard
.