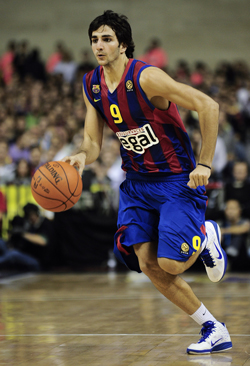 By Matt Moore
With the NBA locked out for the foreseeable future and players flocking overseas (okay, not really, they're just all
saying
they're flocking overseas), surely
Ricky Rubio
will be the first one to abandon his newly embraced Wolves for the sweet bosom of his former team, FC Barcelona, right? Not so fast, mi compadre. From MundoDeportivo.com (via a loose Google Translation):
Mundo Deportivo:If confirmed, the lockout, do you consider the option of playing at the Regal Barcelona?

Rubio: Well, if it confirms the 'lockout', yes. I think to waste a year would be counterproductive, not if they were only a few months. I think we should appreciate everything I thought and still think that the 'lockout' will be short, or that it will not stop the season starts, so I made my decision, but if I return to Europe, my first choice is the club.
via
Ricky: "If there lockouts Barca is my first choice"
.
This is all good news for Wolves fans. Not only is Rubio not heading over unless the entire season is lost, but he's confident and committed to sticking with Minnesota now that he's come over. It's good to hear that he's not waffling or running back into FC Barcelona's arms immediately. At the same time, it's better if he stays in shape with the Spanish club if the whole season is lost rathern that just working out on his own. It's the best of both worlds, really.
Rubio will be playing in EuroBasket this year for the national team as expected for yet another stacked Spanish team. And if the season is lost, expect FC Barcelona to be stacked with NBA players like
Marc Gasol
and even possibly his older All-Star brother.
(HT:
SLAM
)