Posted by
Ben Golliver
.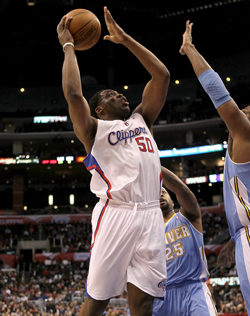 He won't right the ship but he can plug a hole.
SI.com reports
that free agent forward Ike Diogu, a 28-year-old power forward, has agreed to sign a 1-year deal with the San Antonio
Spurs
on Tuesday.
Tuesday evening, the Spurs confirmed the signing, noting that Diogu will wear jersey No. 1.
The Spurs have been regarded as the league's tightest ship over the last decade but the boat has been taking on water during the start of the 2011-2012 season. All-Star guard
Manu Ginobili
is temporarily
lost to a broken hand
, the Spurs added just one meaningful roster part in the offseason, promising rookie
Kawhi Leonard
, and a Monday Night loss to the Minnesota
Timberwolves
, last year's basement-dwellers, makes San Antonio look as vulnerable as its been during the
Tim Duncan
Era.
A 2005 lottery pick, Diogu has bounced around during his five years in the NBA, playing for the Golden State
Warriors
, Indiana
Pacers
, Portland
Trail Blazers
, Sacramento
Kings
and Los Angeles
Clippers
. Diogu underwent a microfracture surgery that caused him to miss the entire 2009-2010 season before playing 36 games for the Clippers last year, averaging 5.8 points and 3.2 rebounds in 13.1 minutes per game.
A bulky, undersized forward, Diogu joins a Spurs frontcourt rotation that is thin on heft as a fifth big man, providing depth behind Duncan,
DeJuan Blair
,
Matt Bonner
and
Tiago Splitter
. He'll bring decent low-post scoring, foul-giving and some rebounding to the table.
Diogu's addition brings San Antonio's roster to 14 players.