Posted by Ben Golliver.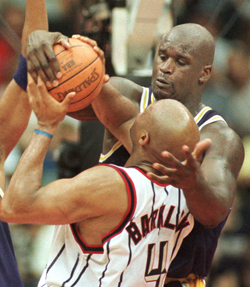 The ongoing NBA lockout has Shaquille O'Neal stuck in an awkward purgatory between "ruining the Boston
Celtics
' season" and "getting paid to make fun of Kenny Smith on a full-time basis".
How is O'Neal spending his days now that he's retired from the NBA as a player but not yet able to offer television commentary? By dabbling in Mixed Martial Arts, of course.
O'Neal joined a panel of fringe characters who operate on the margins of society on
HDNet's Inside MMA program
to discuss who he would like to take on in an MMA fight. Who made up O'Neal's hit list? A bunch of the usual suspect -- retired power forwards -- and one surprise: O'Neal's most recent boss, the President of the Boston Celtics.
"I don't know about this new NBA," O'Neal said. "I'm going to answer that with some old school players. Charles Oakley, definitely. [Charles] Barkley, [Karl] Malone, Xavier McDaniel and I'm going to throw a white guy in there. Who should I pick for a white guy? Not Larry Bird. I'm going to go with Danny Ainge. Because Danny Ainge one time bit Tree Rollins' finger almost off."
There was one current player who O'Neal could see entering the ring.
"Ron Artest, you know you could probably put in there," O'Neal said. "But other than that, I'm not sure."
Here's the video of O'Neal's appearance
courtesy of YouTube user HDNetFights
.
Hat tip: Los Angeles Times