Will the Los Angeles Lakers blow it up if they are bounced from the NBA playoffs early? Posted by Ben Golliver.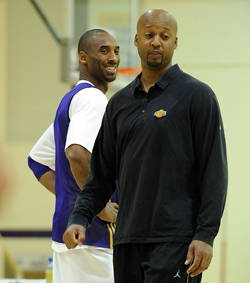 The Los Angeles Lakers are down 2-0 to the Dallas
Mavericks
, and the stress level is going through the rooof.
Kobe Bryant
has said he's concerned. Phil Jackson has said he's concerned.
Andrew Bynum
has said there's trust issues.
Now,
the Los Angeles Times reports
that veteran point guard
Derek Fisher
and assistant coach Brian Shaw are playing the "Play better or you might not be here next year" card in an effort to spur some urgency.
About two weeks ago, Derek Fisher gathered together his teammates and told them to look around the room.
"We discussed that buttons will be pushed," Fisher said after practice Thursday. "That's the reality, and it's business with this team. You have to understand it and appreciate it for what it is. I think guys understand it."
"If [players] like the palm trees, the sunny weather and the pretty women in L.A. and the other stuff that comes along with it, if you want to keep it, then you better come with it," Shaw said. "If you don't, there are a whole bunch of other guys that would love to be in this position. And this organization is not going to sit around and wait."
If the Lakers are serious about blowing things up, it's going to take a lot of work. The team's 10 highest-paid players -- the team's starting five plus
Lamar Odom
,
Steve Blake
,
Matt Barnes
,
Shannon Brown
and
Luke Walton
-- are all locked in through the 2012-2013 season. Bryant,
Pau Gasol
,
Ron Artest
and Blake all on the books through 2013-2014.
In other words, a reshaping of the roster wouldn't just be about declining a player's option, refusing to extend a qualifying offer or letting him walk in free agency. True change in the rotation is only going to happen via trade. That's the button Fisher is talking about.
One other expected change that is worth noting: Shaw could
slide into the head coach's chair next season
.