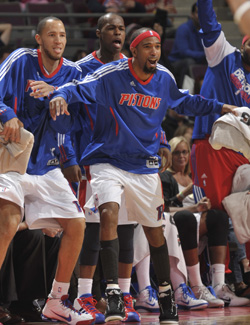 The Pistons are imploding and at the center of it all is Rip Hamilton as reports continue to fly about the meltdown in Motor City. Yes, that is the best lede we could come up with.

Posted by Matt Moore
Following
Ken Berger's report
of the Pistons' decision to fine
Chris Wilcox
and Rip Hamilton, and not to fire John Kuester for the moment, we're starting to get a picture of a strangely torn and bizarre locker room, with Rip Hamilton at the center of it. Here's what we know, or at least, what we think we know. Bear with us, because at this point trying to figure out the Pistons is like spelunking in a sewer:
Berger confirms a Yahoo! report that in January, Hamilton went on an "explitive-filled diatribe" in front of the locker room, alleging Kuester had done nothing in his time in Detroit, and that he was nothing more than a career assistant coach. Now, Yahoo! makes a leap and says that the younger players were shocked by the tirade. Except that Rodney Stuckey and Austin Daye probably fit in that model of young players and yet they were part of Hamilton's "cabal" or whatever you want to call it. In reality, it appears immensely more likely that the locker room was surprised at Hamilton going off, but agreed.
If true, it certainly paints Hamilton in a clear light as the source of all this discontent. His tirade led to his benching, he's refused to communicate with his coach or GM, and now this boycott/protest/whatever it was. If Hamilton was offered an out and turned it down because of the $9 million. Now, $9 million is a lot of money. But when you factor in the contract money he'd pull from another contender, the playoff revenue he'd pull in, and future earnings, the payoff may not make up the $9 million, but it makes it nearly negligible. It doesn't change the fact that the Pistons agreed to pay Hamilton the remaining $25 million when he signed the latest contract with them. But it removes Hamilton's ground to stand on, since the Pistons have offered him a reasonable way out, especially considering their financial and ownership situation. Instead, Hamilton seems to be waging a players' revolt against the organization to undermine the coach, regardless of whether ownership can afford to fire Kuester in this situation or not.
Making it even more complicated is part of the ESPN report which claims that an earlier boycott was planned prior to All-Star weekend, but after management assurances Kuester would be fired over the weekend, they backed down. Until Friday.
So now Hamilton is still trying to work a buyout, which Berger terms as "unlikely" while the Pistons are in complete disarray, the coaching staff has no control over its players, management can't make decisions because of an ownership situation in flux, and ownership can't get out fast enough, requesting an extension from the league to finally get the team passed to new ownership.
Things are bad in Cleveland. They're bad in Sacramento. They're bad in New Orleans.
You could argue they're worse in Detroit.