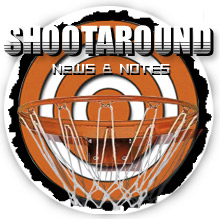 Injuries improving, the Cavaliers are sad, Paul Pierce wants Ray in the 3-Point Contest so he can beat him. Shootaround.
Posted by Matt Moore
Trevor Ariza
severely sprained his ankle
in last night's loss to the
Timberwolves
, and is out indefinitely. Ariza's had another inconsistent season, but he's still a significant part of the
Hornets
, who are now without two starters as Okafor continues to recover. They can't afford to lose too many guys more.
Marcus Camby
says he's close to returning. His
coach says he's out a "few more weeks."
Which is it? Maybe Nate's just used to saying (X player) will be out "a few more weeks" and responded by reflex.
Scott Skiles says
Brandon Jennings
'
minute restriction
could be lifted soon.
A
comprehensive review
of possible trade partners for the Sacramento
Kings
.
A celebration of
Christian Eyenga
getting into the top 200
in Cavalier points history. Things are sad in Cleveland.
Kevin Love
's odds at the All-Star game
are not good
.
Paul Pierce wants to
face down one guy in the 3-point contest
:
Ray Allen
.
Does the
league need to do a better job of screening ownership
? Maybe if they had done that in the beginning, contraction wouldn't be such a hot topic right now.
Derrick Rose
is the type to hold grudges
, which is partially why he beat the
Clippers
, and partially why his free throw shooting has improved so much.
In case you missed it, Rick Carlisle says
Dirk Nowitzki
is the MVP
.