Posted by Royce Young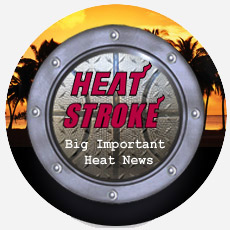 Via Mike Bresnahan of the L.A. Times on Twitter,
Kobe Bryant
said today that he really doesn't like talk about LeBron James,
Chris Bosh
and
Dwyane Wade
's new adventure in Miami.
But he did share his initial reaction upon hearing LeBron and Bosh would join Wade.
"How did Pat Riley pull that [expletive] off?"
How did Pat Riley pull that expletive off indeed, Kobe. It's something a lot of people thought initially post "Decision." In fact, I think a lot of people are wondering it still now. But in reality, it probably had very little to do with Pat Riley and whole lot more with the three main players involved. I'm sure if the three of them were dying to play together in Minnesota, David Kahn would make it happen. Well, that's probably stretching it, but you get my point.
Kobe shared another thought about the Miami Triad, saying simply, "I've got to get my knee healthy." If I understand Kobe here - and I think that I do - he's implying that his team, the
Lakers
, might meet LeBron and Bosh's new team, the
Heat
, at some future time. The NBA Finals perhaps?
Though not to cause a panic that that might not happen, but Kobe may not exactly have that knee healthy. He's previously said it was at about 60 percent and he's kind of sort of playing like it. So far in preseason, Kobe is shooting just 14.3 percent from the floor. That's 4-28 from the field and he's 0-10 from 3. So if he intends on seeing LeBron and Friends at a later date, he needs to work on that knee a little more.