Posted by Royce Young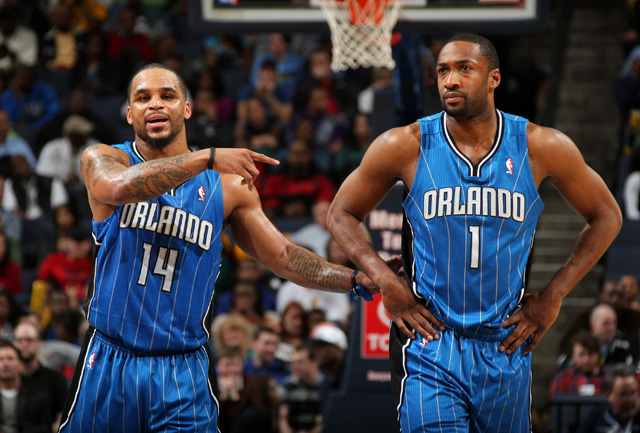 Oh,
Gilbert Arenas
. You were supposed to be The Difference. You were supposed to be that go-to scorer the
Magic
could rely upon to spare
Dwight Howard
in crucial moments. You were supposed to be a lot of things when general manager Otis Smith traded for you in December.
One thing you most definitely were not supposed to be? A third string point guard.
And that's where Arenas currently sits on the Magic depth chart
via the Orlando Sentinel.
Van Gundy used SF Hedo Turkoglu as the team's backup point guard during the second half on Tuesday.

"I don't know what we're doing," Van Gundy said. "I haven't decided exactly what we're doing. I know Jameer's going to play a lot of minutes. I know we're going to use J.J. [Redick off the bench], I know we're going to use Q[uentin Richardson] and I know we're going to use Ryan [Anderson].

"As far as what we do at the backup point, I'm not totally sure."
I like Van Gundy's move there. Play stupid.
I have no idea what I am doing with this situation. But I will show you in how I distribute minutes, so in fact, I do know.
Total, Arenas has played 18 minutes in this series and is 3-8 from the floor. He played only six minutes in Game 2. Like I said, I think that sort of tells you what the Magic are doing with him.
Good news though: Arenas is just owed $62 million over the next three years. Well, I guess that's actually very bad news. But it was obvious when Otis Smith pulled this deal that he was desperate to pull out all the stops. Getting
Jason Richardson
and Turkoglu has worked relatively well, but Arenas has been pretty much a disaster.
I think he still has a lot of skill, but he just has no clue how he's supposed to play. He just doesn't seem to comprehend a role where he doesn't have the green light to launch from 30 feet. Arenas is a terrific scorer and someone that could absolutely put the Magic over the top. That is, if he could rediscover his game and play like the Gilbert from 2005.
That doesn't appear to be happening and Van Gundy sees it more than anyone. Arenas isn't scoring, he isn't creating and he isn't defending. So Van Gundy has to pull the plug on it. Arenas will still see minutes, but not too many teams are comfortable paying a third stringer $20 million a year. It was said at the time of the deal that the move for Arenas was high risk, high reward. So far, not a lot of reward.