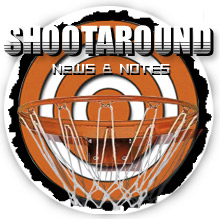 Posted by Royce Young
Brian Schmitz of the Orlando Sentinel: "I watched in open-mouth amazement after Thursday's practice as Howard drained bank-shot after bank-shot, then made some turnaround jumpers. He worked for about 20 minutes with assistant coach Patrick Ewing and center Daniel Orton, catching and shooting. I'm not crazy about his turnaround J. But anything that doesn't make him as predictable as he has been in the crowded paint and draws in defenders can't be all bad."
Jeff Pendergraph had a pretty nasty injury last night and today he tweets: "Thanks for the well wishes everyone. Gonna b heading back to Portland tomorrow to get checked out by doc but so far word is nothing major... Keep praying y'all. We will get through this. God doesn't put you through anything he knows you can't handle."
Blazersedge looks at Portland's options: "Another option would be to grant Rudy Fernandez's release request, which Cho has repeatedly said he will not do. He could also release another player. Rookie Armon Johnson, picked in the second round and earning just $473,604 this season, would be the cheapest player to release, but this would be extremely unlikely to happen given how high the team's brass is on Johnson's future and how well he has looked during training camp."
Larry Brown on OKC: "I look at him and some of our young guys in the NBA and I think our league's in pretty good shape," Brown started. "And this team (the Thunder) probably is a testimony to that. Look at their young kids. Their not only terrific talents, they're better kids. They've done the greatest job of bringing in good kids that represent the league well. When they're talking about respect for the game, that team's a poster child for that. So the West better watch out."
Brian Robb of CelticsHub: "Luke Harangody has yet to show me something besides hustle. We should have just kept Scal if we needed that." Ah, missing Brian Scalabrine. What are the chances you thought you'd see someone say that?
What will the Hornets rotation look like? Ryan Schwan of Hornets24/7 says Willie Green has the edge to back up CP3: "It appears Willie Green has locked up the backup position at the point. Color me surprised. Every statement out of training camp has indicated he is leading the charge as the backup point guard and relegated DJ Strawberry and Mustafa Shakur to purely end-of-the-bench roles. I won't lie. I worry about Green being able to pull this off. He's been a swingman for 95% of his career."