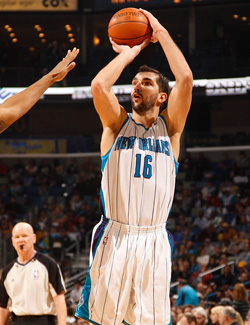 Peja Stojakovic and Toronto Raptors reach buyout agreement.
Posted by Matt Moore

Update 3:49 p.m.
: The Raptors have announced the buyout is complete, Peja's on the market.
22 minutes. That's the sum total of time that Peja Stojakovic has spent on the floor for the Toronto Raptors. And it's looking more and more like that's going to be the sum total for his career. Ken Berger of CBSSports.com confirms
a report from ESPN
that the Raptors and Stojakovic are close on a buyout agreement that will put the 33-year-old fading shooter on the market, where Stein reports he'll seek to join a contender. The buyout is expected to be completed Thursday.
Peja's top teams are apparently the
Mavericks
,
Hornets
, and
Lakers
. Let's take a look at the three options.
Mavericks: A reasonable spot. They're in desperate need for a wing option. But Stojakovic's defense is the question here. The Mavericks can't surrender a defensive lapse at that position, the biggest reason they've targeted
Stephen Jackson
. The Mavericks do need a shooter, though, so this might be an option. He was shooting 38% from the arc with the Hornets in limited minutes, so it's possible he could be a fit. If the Mavericks don't think they can find an upgrade to replace
Caron Butler
through trade, this might be their default option, should he last that long on the market.
Hornets: A return home. Peja has been in New Orleans for five years. He's used to playing with CP3, used to playing with
David West
. And he looked better than he has at the start of this season. But head coach Monty Williams has been very particular with his approach in regards to wing minutes, and it's unclear if they'll be willing to make the commitment to Stojakovic. But if he's willing to come in for cheap, and with the Hornets still trying to figure out that position between Marco Bellineli,
Willie Green
, and
Marcus Thornton
, it's possible they could bring in Peja. Then again, that's a lot of players at one position.
Lakers: A pretty reasonable spot. Championship aspiriations. In need of shooters, with
Ron Artest
's shooting all over the place. Always shopping for improvements. But with
Lamar Odom
, Artest, and Barnes all getting minutes at the three-spot, room is short there, and with Bryant expected to play Bryant minutes and
Shannon Brown
mopping up the difference along with Artest, there may not be room there for Stojakovic, especially with their need for depth down low.
We'll keep you apprised of Peja's landing spot.