We reset the Hornets-Lakers series with Game 2 set to tip Wednesday night. L.A. needs to even the score. Posted by Ben Golliver.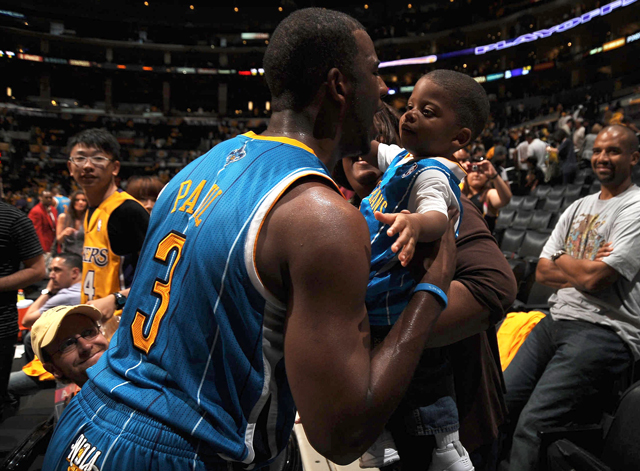 The Narrative:
The underdog New Orleans Hornets -- smaller, less talented and with a weaker bench than the favored Los Angeles
Lakers
--
played a near perfect Game 1
. That meant protecting the ball, getting huge contributions from their reserves and enjoying a masterful performance from point guard
Chris Paul
.
Paul's huge night
-- 33 points, 14 assists, seven rebounds and four steals -- and late-game efficiency clearly had the Lakers on their heels. Aside from
Kobe Bryant
, whose 34 points led the way, and some flashes from
Andrew Bynum
, the Lakers mostly no-showed.
Pau Gasol
was passive and unproductive -- eight points and six rebounds in 38 minutes -- and has taken a lion's share of the blame.
The Hook:
Quite simply: Do the Lakers finally flip the switch in Game 2? L.A.'s late-season play (they lost five of their last seven entering the playoffs) and lackluster effort have been well-chronicled. Despite that, the Los Angeles continues to possess match-up advantages all over the court. The Hornets have no real answer for Bryant, shouldn't have an answer for a motivated Gasol, struggled to contain Bynum's length, and could easily become the victim of a monster performance from
Lamar Odom
off the bench on any given night.
In essence, Game 2 boils down to whether the Lakers core players show up, as a group, locked in. If they do, L.A. should be able to restore order fairly easily on their homecourt. If not, it will be panic time.
The Adjustment:
Flipping that switch will start on the defensive end, where the odds dictate that the Hornets' bench will not shoot a combined 16-22 again. Expecting the role players to fall back to Earth doesn't solve the Chris Paul conundrum, though. Keeping Paul in check is a difficult proposition for any team. Expect the Lakers to throw multiple looks at him, and to work extra hard to get the ball out of his hands. The return of reserve guard
Steve Blake
, who was
battling chicken pox
, can't hurt. Blake's not a Paul-stopper by any means, but his ability to give some minutes allows L.A. to return to its usual guard rotations, lessening the burden on
Derek Fisher
, who played 39 minutes -- 11 more than his season average -- in Game 1.
The X-Factor:
On Tuesday, the NBA awarded Odom its
Sixth Man of the Year award
, and his teammates reportedly celebrated the occasion by offering him a standing ovation. Wednesday would be a great time for Odom to deliver on that adulation with a game-changing performance. Odom scored 10 points in Game 1 but his all-around play was lacking. He had just one rebound, two assists and he committed more turnovers (one) than he registered steals and blocks combined (zero). New Orleans' team intensity level offers some explanation for why L.A.'s bench came up small in Game 1, but there's no excuse at this point. Odom is a more skilled all-around player than every frontcourt player on the Hornets' roster. Even though it's only Game 2 of the opening round, we've reached "making presence felt" time for Odom.
The Sticking Point:
Reserve big man
Aaron Gray
is questionable for Game 2 with
a sprained ankle
, which usually wouldn't matter. But Gray played out of his mind in Game 1, holding Gasol in check for stretches, making all five of his field goal attempts to finish with 12 points, and posting an astonishing +25 in the +/- category. Gray was
so
good that Paul called him the MVP of Game 1. Without Gray, New Orleans is left with a frontcourt rotation that includes
Emeka Okafor
,
Carl Landry
,
D.J. Mbenga
and
Jason Smith
. Both Okafor and Landry have their hands full avoiding foul trouble and Mbenga showed in Game 1 that about all he was good for was hacking Bynum. Gray, however improbable it might seem, is a difference-maker because the Hornets' are simply that desperate for big bodies. If he can't go, it could be another long night on the boards for the Hornets, as the Lakers won the rebounding battle, 41-33, in Game 1. [Update: following Wednesday's shootaround, Gray
says he will give it a go
.]