Portland Trail Blazers coach Nate McMillan was fined $35,000 for comments he made about the officiating in Game 1 of his team's series against the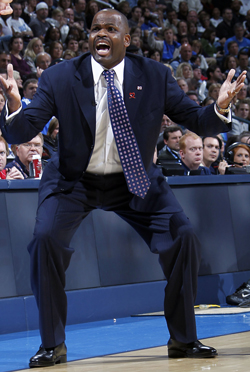 Dallas Mavericks. Posted by Ben Golliver.
Any time Dallas Mavericks forward
Dirk Nowitzki
goes 13-13 from the free throw line in the fourth quarter to win Game 1 of a playoff series, you know there are going to be some upset people on the opposite sideline. That's exactly what happened on Saturday, as Portland Trail Blazers coach Nate McMillan vented some frustration at the officiating after his team lost to the Mavericks, 89-81. that helped send Dallas to an 89-81 victory.
On Monday, the NBA fined McMillan for his comments about the officials -- about the 19-2 fourth quarter free throw disparity in particular -- and released the following statement.
Portland Trail Blazers coach Nate McMillan has been fined $35,000 for public comments about the officiating, it was announced today by Stu Jackson, NBA Executive Vice President, Basketball Operations.
McMillan made his comments following Portland's 89-81 loss to the Dallas Mavericks at American Airlines Center on April 16.
So what did McMillan actually say? Not much.
The Oregonian transcribed
his post-game statements, which were presented as surprise and frustration rather than rage.
"The free throws, I just don't get that," McMillan said. "It's hard for our guys to know how to play out there when it's called a little different. (The free throw difference was) 19-2 in the fourth quarter. And I felt like we were attacking and guys really didn't know how to play with the fouls that we're being called.
"A lot of touch fouls and I thought that (gave them) momentum and pretty much gave them control of the game in the fourth quarter," McMillan said. "This game was pretty much decided at the line in the fourth quarter."
While McMillan's criticism wasn't that direct or heavy-handed, he surely knows that he shouldn't have said anything at all if he didn't want to hear from the league office in this strict post-Donaghy era. Did he make the comments intentionally? It's a good possibility, as Portland could play up to three more road games in this series and he surely doesn't want to see such a disparity again.
Is it worth the find to send that message? And does anyone listen when a coach gripes like this? Who knows. But McMillan recently got a two-year contract extension, so he can afford it either way.