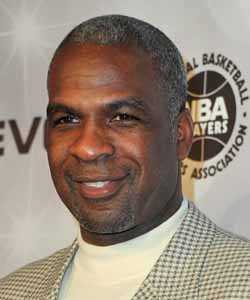 By Matt Moore
The list of things Charles Oakley is afraid of is pretty much death and giant spiders (everyone's afraid of giant spiders). Not on that list? The New York
Knicks
and their current organization. Oakley teed off over the weekend on all manner of Knicks personnel. And he started by replying to us, actually.
We
shared our post last week
on Stoudemire's comments the players regarding
starting a new league
. Oakley replied:
@EyeOnBasketball he need to win a playoff game first
via
Twitter / @CharlesOakley34: @EyeOnBasketball he need t ...
.
Harsh.
(Stoudemire of course does have lots of playoff wins... but none in New York after their sweep by the
Celtics
this past spring.)
And Oak wasn't done. At the opening of his clothing collection at a store in New York, the former Knickerbocker
unloaded on the Knicks
, saying they have nothing but hype, that Mike D'Antoni's system can't be successful, and criticizing upper management for not hiring Patrick Ewing or himself. He commented that instead they prefer to have Isiah Thomas around... who Oakley has some strong words for in particular. From the
New York Post
:
"Y'all should have tried to call me and talk to me, and maybe we could have gotten LeBron to New York. You went to Isiah [Thomas], and some of these other guys that don't know the guy."

Speaking of Thomas, Oakley did little to hide his feelings about the former team president.

"I don't understand how he even got a job with management," said Oakley, 47. "He had nothing to do with the Knicks, then he talked bad about the Knicks ... If I see him, he'd better turn around and go the other way."
via
Former Knicks star rips everyone from Amar'e to Isiah - NYPOST.com
.
Let's see. Where does Oakley rank on the list of people I want saying they would confront me if they saw me? Ah, here we go:
2,664,868:
Michael Myers
2,664,869: Charles Oakley
2,664,870: Bill Romanowski circa 1997
Good luck with that, Zeke.
The Knicks are under no obligation to keep Oakley in the loop or even in good relations. But it doesn't look good for the organization to keep him at arm's length. But then again, if he's going to make comments like that, it's hard to see what kind of relationship they could have with him. Guy's not exactly known for not speaking his mind, you know?