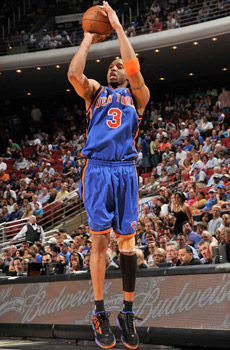 Posted by Royce Young
The
Hawks
appear to be losing their top bench option in
Jamal Crawford
so they're trying to cost effectively replace him. How? With a 32-year-old former scoring champ.
According to ESPN.com
, the Hawks have agreed to a one-year deal with
Tracy McGrady
for the veteran minimum. McGrady, a shooting guard/small forward combo player, spent last season in Detroit quietly having a nice season off the bench for the
Pistons
. He averaged 8.0 points in 23.4 minutes per game. The oft-injured McGrady made it through last season without a major hiccup, playing in 72 games while starting 39.
McGrady can't officially sign with the team until Friday when free agency actually begins. But teams have been allowed to speak to agents for more than a week and could negotiate directly with players as of Monday.
McGrady has been in the league though 15 seasons and has appeared in 886 games. That's a lot.
The Hawks don't have a lot of depth to start with and really won't have much if Crawford, an unrestricted free agent, signs with someone else. Right now, there's nobody behind
Joe Johnson
and the starting small forward is
Josh Smith
with
Marvin Williams
behind him. So it's very likely McGrady will serve as Johnson's backup.
It's just a matter of how McGrady has left in the tank and if he can stay healthy. If so, he's going to make a nice piece for a contender. Depth is always extremely important and even more so in a shortened season with games packed together like they are.
McGrady's had a prolific career scoring the ball in Toronto and Houston, and has played in New York and Detroit. The Hawks will be the fifth franchise for him. And with him only being 32 still, I doubt it is his last.