Milwaukee Bucks point guard Brandon Jennings is expected to miss a month or more with a fractured left foot. Posted by Ben Golliver.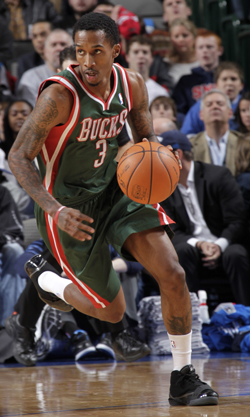 Milwaukee Bucks point guard Brandon Jennings has upped his production pretty much across the board in his second NBA season, a nice follow-up to a rookie year that found him in contention for the 2010 Rookie of the Year. And unlike his fellow Rookie of the Year candidates, Sacramento
Kings
guard
Tyreke Evans
and Golden State
Warriors
guard
Stephen Curry
, he hadn't missed any time due to injuries, starting in all 25 of Milwaukee's games to date. That run comes to an end Monday, as Journal-Times.com
reports on Twitter
that Jennings is expected to miss "at least four weeks" with a foot injury after undergoing an MRI and will not be active for Monday night's game against the Portland
Trail Blazers
. The Bucks later issued a press release that calls the injury a "fractured left foot - fifth metatarsal" and puts Jennings' recovery timeline at 4-6 weeks after a surgery that will will be performed Monday afternoon. It wasn't clear this past weekend exactly what was troubling Jennings.
He told the Journal Sentinel
he felt pain throughout his left leg and that it was limiting his mobility.
Jennings said he was expecting to have tests on his left foot, which he injured when he fell awkwardly in the first half against San Antonio on Wednesday night.
But he returned for the second half against the Spurs and played 30 minutes Saturday. Jennings has started in every game since the Bucks selected him with the 10th pick in the 2009 draft, a total of 107 consecutive regular-season games and seven playoff games. "At first it was my knee and it went down to my ankle, but right now I don't know what the real problem is, so I'm not going to talk about it too much," Jennings said. "I wanted to give it a go just to see what it felt like. "But not a lot of really good lateral movement for me. I couldn't really come off the screens and do what I want to do because of the foot."
Jennings is currently leading the Bucks in scoring at 17.9 points per game and has averaged 4.0 rebounds, 5.5 assists and 1.2 steals so far this season. Even though he's taking more shots this year, he's improved his overall field goal percentage from 37.1% to 39.1%, nothing to write home about, but it is progress. Despite his scoring numbers, he's known around the league as a flashy playmaker, and his ability to spread the ball around has ensured that teammates
John Salmons
,
Drew Gooden
and
Corey Maggette
are all averaging in double figures this season. The Bucks were already off to a disappointing start at 10-15, good third place in the Central Division, and the loss of their top scorer and main playmaker only makes things worse. Milwaukee will be forced to get by with backups
Keyon Dooling
and
Earl Boykins
, a pretty unappetizing pair. Dooling, as unimpressive as it gets, and Boykins, as undersized as it gets, could make for an ugly December and January for Bucks fans. That all three 2010 Rookie of the Year finalists have now been burdened with injuries so early this season is an unfortunate coincidence. Evans has battled plantar fasciitis,
causing him to miss time last week
, while Curry, who has rolled his ankle more times than anyone can count, is hoping for a Christmas return after
his latest injury
. Is this what they mean by sophomore slump?