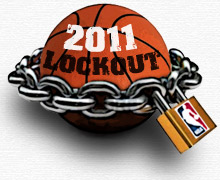 By Matt Moore
The players have a lot to talk about Monday, and they want a full house for it.
Ken Berger of CBSSports.com has confirmed
an
ESPN report that the NBPA has asked representatives
from all 30 teams to attend their meeting in New York on Monday. The range of topics on the table will include the NBA's latest offer, though union leadership is firmly against bringing the offer to a vote as it deems it "unacceptable." On the extreme opposite end of the spectrum is the issue of decertification, and whether or not the NBPA should break apart its union in order to pursue antitrust suits against the league as individuals. So there's kind of a wide gap in how the union might go. Accept the unacceptable and get a deal in the face of the league's strongest bullying tactic yet, or decertify and commit professional suicide in order to gamble on a miracle favorable ruling on three different levels.
Who's bringing punch and pie?
As we outlined here on Friday
, decertification is certainly an option, but the odds of its success are extremely limited. It's best used as a negotiating threat, a threat which of course is wasted if you actually, you know, use it. But there are players for whom this has become as personal as it seems to be to the league. The league wants to prove a point to the players, and the players are responding the same way most anyone would if you pushed them around enough. They want to fight back. Behind that is a group of agents who have larger investments long-term in the league beyond just the players playing now and want to make sure they fight for every dollar they can get over the next 20 years, not five or ten.
But as
Berger pointed out on Sunday
, there are a number of agents who don't support decertification and understand what it means financially. Perhaps in July it could have been used as a viable weapon, but Billy Hunter understood the risks involved in taking this to court and putting this conflict into a trench-warfare-type environment. He gambled on being out in the open, able to maneuver and possibly regain some ground. His gamble didn't work, as the owners' onslaught pressed on. So now the union is torn apart, with some players just wanting to go back to work, some players needing to go back to work, some players wanting to talk more, and a number of players and several All-Stars (with the bank accounts to back it) wanting to blow everything up and commit to a full-on battle.
Might want to order the butter knives and not the steak knives for lunch today. That meeting's going to get really serious very quickly.